+$1744 on 2 Gap and Go Trades
What an awesome start to the month! I finished last month with over $32k in gains. This was based on trading 4-5 times/day with a 75% success right and a 17 cent average gain vs 12 cent average loss. These are the metric we discuss as part of our risk management chapter of the day trading course. In order to be a profitable trader you need a combination of a profitable profit loss ratio plus a good accuracy rating. I usually set the bar at 1:1 profit loss and 60% accuracy for our students. That is the min required to be profitable. Of course, higher is better!
I have a history of starting months with a big red day! It's a pattern in my trading. I think it's a strong desire to get myself into the drivers seat, and into a profit cushion, as quickly as possible. That has lead me to make some poor decisions in the past. But not today!!! I said today I'm going to focus on just taking 2-3 trades with smaller size with the goal of simply booking a greed day.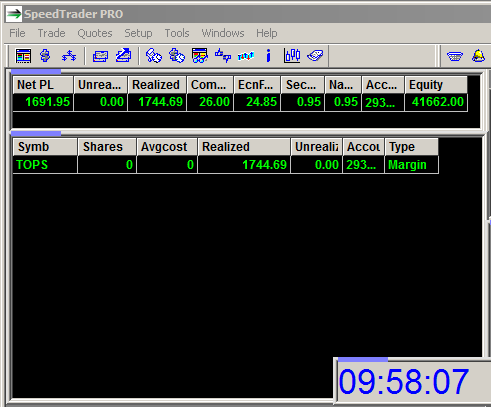 My first trade was long on $TOPS at 4.48 for the break of the half dollar. I sold on the squeeze to 5.17, and then added back for the break through $6.00. In total I net +$1744.69 before commissions. This gives me a nice cushion on the month. Tomorrow I will take the same approach. Goal is to close the day green with even just $500-1k profits. I don't want to swing for home runs right now because I can't afford to strike out. It's important to know when to be aggressive and when to be more conservative. This will get you through all the ups and downs of the market.
Video Recap