Stock Market Scanners
With the Warrior Trading Stock Scanners you will be able to quickly find the right opportunities to trade. A powerful tool that is ready "out of the box." No complicated programming or set up required.
Multiple Scanners
for any strategy
View stocks by volume, momentum, gappers and more
Critical information
at your fingertips
Price, float, relative volume, halts and more
Designed by
experienced traders
Fine tuned with Ross's extensive experience
Link straight to news
for context
Quickly evaluate the catalyst for any stock's move with our premium news feeds. No extra subscription required!
Customizable Audio Alerts
See the corresponding strategy to what you've learned in our courses
Access to notes on former runners, bringing you key market history and context
Ready to get started?
Scanners are available as a subscription with any of our Memberships. Click to learn more and join.
At Warrior Trading, we know that it is critical to find stocks making moves in real time. We have integrated Ross's years of experience and best practices into our new scanning system, available exclusively to our students.
The Scanners are available in our day trading chat room platform. So you will quick access to the key information before determining your trades.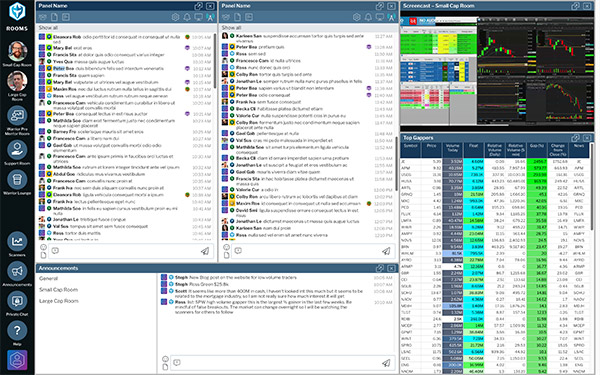 Chat Room
Having the right information at the right time is critical for day traders
Pro students have access to our entire suite of scanners. They are available starting at 4am ET each day until market close at 4pm ET.
Our scanners include
Gappers
High of Day Momentum
Halts
Top Relative Volume
Top Volume
Top Gainers
Top Losers
Top Gappers Scanner
Our High of Day Momentum scanner is critical for finding trades throughout the day. This scanner is built with the same principles that undergird the strategy taught in the Warrior Pro courses.
Students can customize their audio alerts to quickly know when a stock that meets their preferred strategies is on the move.
HOD Scanner
Save time and money. No complicated settings or programming to manage. Enjoy our scanners and premium newsfeed built right into our day trading chat room as a Warrior Pro or Warrior Starter student.
When a stock is moving, you want to know why. With one click you can access our premium news feeds instantly.
Enjoy the convenience of having robust scanners, premium news, and a community of thousands of traders all in one spot.
Stock News