Many new traders make the beginner mistake of using the wrong tools.  Using the right day trading software and day trading tools is critical.  While a skilled trader can make do with less than ideal tools, beginner traders need every advantage possible.
That means making sure your equipped with the best trading software, scanning software, and charting software.
I often talk about trying to ride a road bike in the sand. It doesn't matter if you have a $2,000 road bike, you can't ride a road bike in the sand.
If you ride a $200 used beach bike with fat tires you will have a great time! The guy on the road bike will wonder why you are making it so easy.
It's because you are using the right equipment for the environment. It's not about how much money you spend, it's about using the right tools.  Make your life easier by using the best tools below.

Day Trading Software
There are a few different items you will need for day trading including:
Online Broker
Scanning Software
Charting Software
Breaking News Software
Below we will dig into our favorite day trading software, why we use them and why we think they are crucial for traders to have!

Online Broker: Lightspeed Financial Broker

There are hundreds of brokers you can choose from and they all provide traders with a different experience.
Generally I group brokers into various categories depending on what services they provide or what financial instrument they specialize in.  There are options, forex, stocks, long term investing, and scalping brokers.
For active day traders we need a few things, hot keys, direct access routing and fast executions.
For these reasons I use Lightspeed and consider them the best broker and one of the best tools for any trader.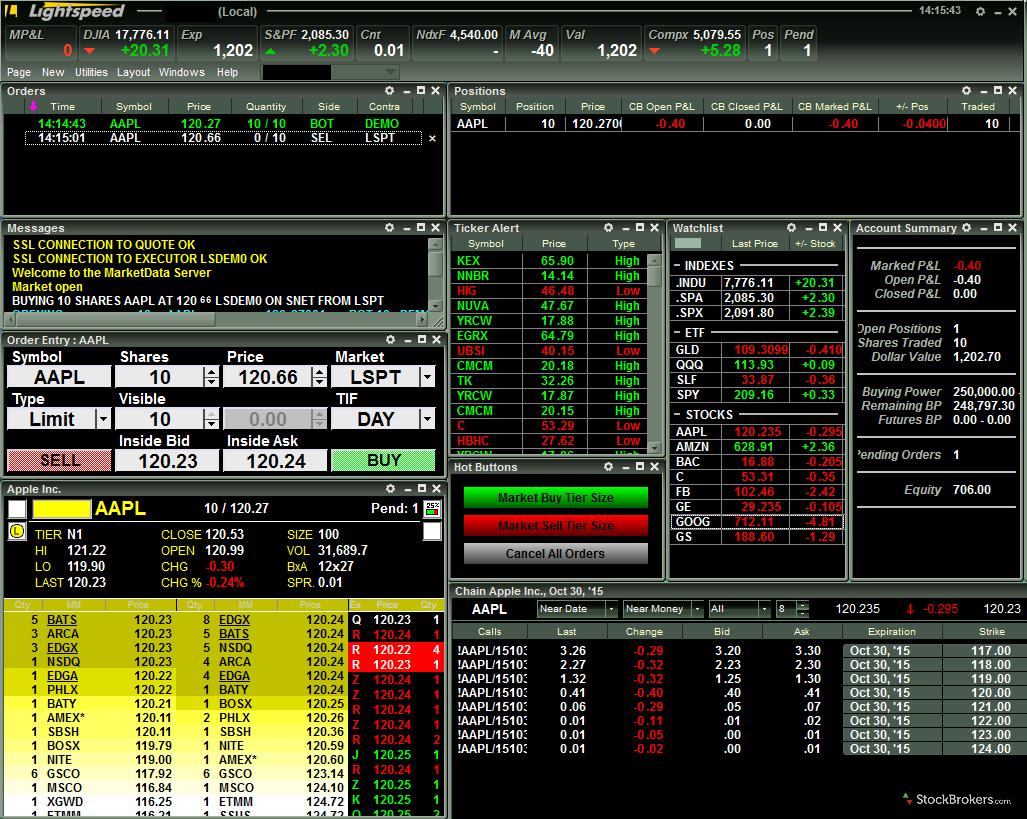 If you are trading with a $500 trading account, CMEG (Capital Market Elite Group) is the next best thing!  They allow unlimited day trading with a $500 min balance (NO PATTERN DAY TRADER RESTRICTIONS)

Stock Scanning Software: Trade-Ideas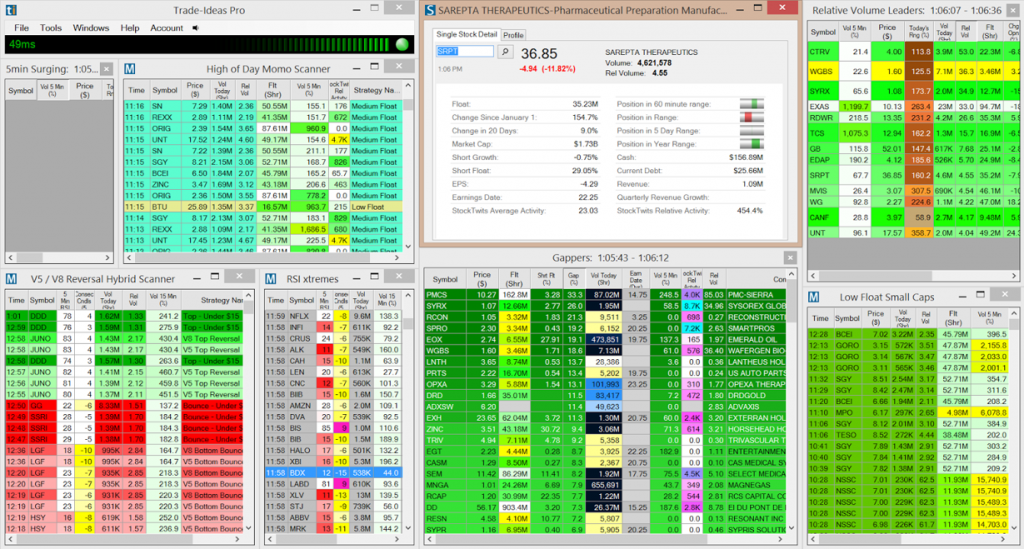 Now that you have your broker funded you are ready to start trading!  You need a way to find stocks to trade.  Based on my Gap and Go and Momentum trading strategies there are only a few stocks worth trading on any given day.
Knowing how to identify those stocks before they make the big move is crucial to your success.
I use Trade-Ideas for all my stock scanning software.  You can use their predefined searches to see HOD movers, Volume spikes, Biggest Gainers/Losers, Turbo Breaks, etc.
Or you can do what I've done and build custom scanners using their set of hundreds of filters to tell the scanners exactly what you want to see.
Do you like trading Bull Flags?  No problem.  Flat Top Breakouts?  Easy.  There is no software in the world that can scan the market and find winning stock setups better than Trade-Ideas.

Charting Software: eSignal Charting
Okay so you have your broker, you're all setup with Trade-Ideas, but you are ready to get some really high quality charts.  You can use the charts that come standard with your broker.
Those will work for a while, but eventually you may want to take it up a level and use charts that allow you to draw and write custom formulas.
This is where eSignal comes into play.  For a long time I used TC2000 for my charting, but when I added more monitors TC2000 was just too slow.  eSignal allows me to easily run charts on 8 monitors without any lag time (check out how to set up a trading computer).
This is pretty impressive.  And for me it's important because I like to keep an eye on several stocks at once.  In addition to being fast and reliable, eSignal allows you to install custom scripts.  I use these as custom indicators for reversals, and automatically drawing support/resistance lines.

Breaking News Provider: Benzinga
As you'll learn in our Day Trading Courses, each morning we start the day with a review the stocks gapping up on our Trade-Ideas scans.
From there we have to look for the news catalyst, the reason why these stocks are moving higher. Sometimes they are moving in sympathy with the market or a strong sector, but other times they have a unique catalyst like earnings.
Understanding the reason why a stock is moving is important because some catalysts are stronger than others!  I use Benzinga Pro to search for the latest headlines.  Then during the day I listen to the Benzinga Pro Squawk.
They read the headlines and let us know when stocks are spiking, breaking news reports, etc.  This breaking news feed has made me over $4k in the last two news trades alone (see $WATT and $MBLY).

TAS Market Profile
TAS Market Profile is one of the best day trading software programs on the street. There are a couple different packages you can choose from depending on what you are looking for.
They have a TAS Indicator Suite that offers 7 of their proprietary indicators including: TAS Market Map, TAS Boxes, TAS Vega, TAS Navigator, TAS Ratio and TAS Compression Levels.
I really like the TAS Market Map, TAS Vega and TAS Boxes for active trading and have found it to be of great value for making trade decisions.
Read our full review on TAS Market Profile Here!
They also offer TAS Scanner. This unique tool allows you to see stocks moving in different time frames with varying levels of buying or selling confidence at key levels. This is a powerful addition to your charting software and is something I use everyday.
The indicators and scanners work on a ton of different charting platforms including eSignal, Tradestation and Bloomberg. You can find a full list here.
Final Thoughts
Having the right tools and day trading software for online trading will point you in the right direction to make better, more informed decisions.
Trading is one of the most competitive careers you can choose so don't put yourself at a disadvantage or it could come back to haunt you!
From time to time we refer third-party products or services to you. We may receive compensation from those third parties whose products or services we refer, however, our reviews and recommendations are independent of any compensation we may receive. There is no obligation for you to interact or transact with these third parties.