Value For Investors

Value For Day Traders

Commission & Fees

Trading Platform & Tools

Customer Service

Order Execution

Mobile Trading

Options Trading
Summary
Firstrade has come a long way since its founding days. The discount broker has been able to transform its website to be user friendly, integrated its new trading platform with intuitive research tools designed to help you make sound decisions while at the same time reducing commission prices substantially. If you are looking for a solid discount broker then they are worth checking out.
FirsTrade is an online discount broker that's been in business since 1985. They offer a full line of investment products from stocks, options, ETFs, mutual funds and fixed income products. They have focused their efforts on providing excellent customer service while also having the tools and commission rates to add value for their clients.
Their platform, or lack of one, is just a java based tool that features live streaming quotes and a watch list feature. I'll go over it more below but it was very underwhelming. Their educational section was average with videos on how to place orders, option basics and some information on margin loans. Most of it is for traders who are just starting out and don't really know anything.
One thing worth noting is they have a Premier Services deal for clients who have a certain amount of cash with them. There is a Blue, Gold and Platinum account. To obtain Blue Account status you must have a minimum of $2,000 in your account and with it you will receive real-time streaming market data and quotes for free, Gainskeeper for only $5 per year (Free at other brokers) and free e-documents.
With the Gold Account you need to have at least $50,000 in your account and you will get everything mentioned before plus you get a dedicated personal representative to help you with any trading or account needs plus you receive a discount on other account related items like copies of personal check and duplicate tax statements for only $5.
The Platinum Account is for clients with over $100,000 in their account and they get everything in the other accounts but they also get account related items for free. Basically these premier member accounts are incentives to hold more money with FirstTrade so you can gain access to some better benefits.
This all sounds great, but in the fine print below it says you have to meet commission requirements as well. It's $100 in commissions per month for the blue account, $500 per month for the gold account and $1,000 per month for the platinum account. So you have to have a certain amount of capital and you have to trade a lot to maintain access. For more information you can click the link here.
Commission & Fees
FirstTrade has updated their commission structure to meet industry standards and are actually cheaper than most now with stock trades being just $2.95.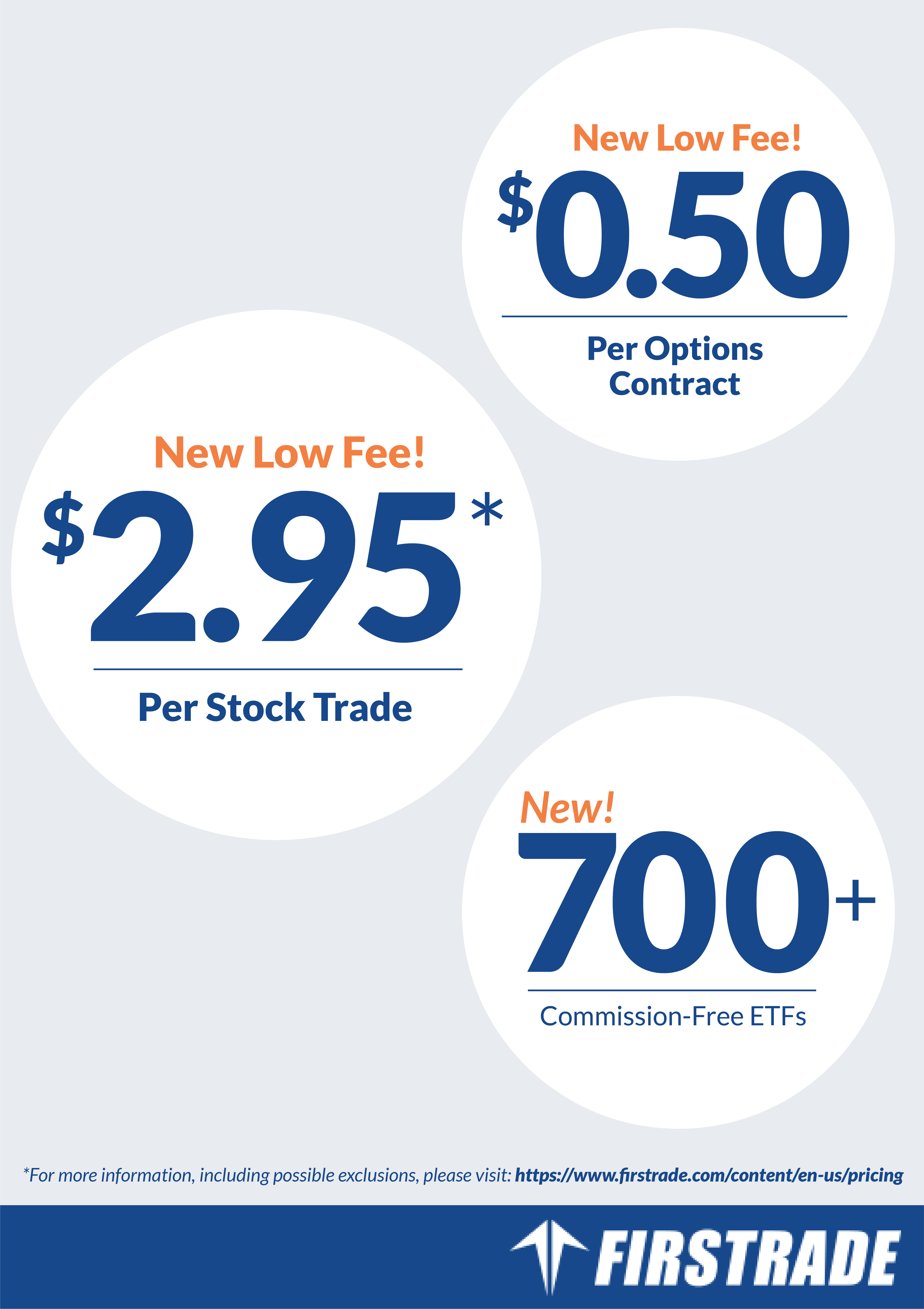 As one of the cheapest discount brokers out there, Firstrade offers affordable pricing to ensure investors and traders enjoy maximum value. Here is an overview of Firstrade pricing:
Stocks – $2.95 per trade
Options – $2.95 per trade and $0.50 per contract
Mutual funds – $9.95 for no-load funds. Transaction fee and load fees are free.
Fixed income – $30 for primary market CDs.
Broker assisted orders – Stock & ETFs – $19.95, Options – $19.95 plus $0.50 contract and No Load funds at $19.95.
This is quite an improvement from their previous pricing and it makes them a much more attractive broker now.
Trading Platform & Tools
Before 2016, Firstrade was still relying on its Java based X stream watch list tool which was found to lack vital features, functionality and depth. To ensure customers continued to enjoy their top notch services, Firstrade decided to make changes to its trading platform. This led to the introduction of Firstrade Navigator in 2016.
The new platform was built using the latest web language – HTML 5. This ensured that the trading platform is flexible, able to execute trades very fast and compatible with multiple devices.
As an investor or trader, once you sign up, you will be redirected to your account dashboard which provides a quick overview of market activity, orders, gain vs. loss, cash vs. holdings, gainers, most actives and other features.
Below the market overview section, you have the stock order, option order and order status. Firstrade has made it easier for users to switch between these features.
All in all, Firstrade trading platform has a clean look which appeals to all customers. It has both standard and advanced trading features such as indicators, charting tools, news feed and the option to trade margin.
Account Management
Account management is another useful service offered by Firstrade. With this feature, clients have the option of managing and monitoring their accounts. The feature comes with customizable tools designed to fit your trading style.
Using Firstrade innovative account management feature, you can:
Monitor all your gains and losses
Link accounts
Customize the look of content and columns
Protect your account
Access your account history
Download your Firstrade account details
Mobile Trading App
Firstrade has kept up with the advancement in trading technology and now, it provides a mobile trading tool for its customers. With the new app, traders and investors can now trade on the go. In addition, they have the option of managing their portfolio anytime, anywhere.
The iOS version comes with Touch ID which allows traders and investors to use their fingerprint when signing in. Other features available for both iOS and Android devices include access to equity ratings, access to fundamental data, access to your portfolio dashboard and an enhanced order status view.
In addition, users have the option of adding up to 50 symbols to their stock watch list; they can also edit, trade and research any stock symbol from within their stock watch list. To make it easy for the less tech savvy users, Firstrade has compiled an intuitive step by step mobile app user manual available on its website.
Final Thoughts
Firstrade has come a long way since its founding days. The discount broker has been able to transform its website to be user friendly. The company has also integrated its trading platform with intuitive research tools designed to help you make sound decisions when building your portfolio. Available research tools include market news, stock reports, alerts and real time streaming watch list.
Although Firstrade Navigator is intuitive, rich in trading tools, has advanced technical charting tools and an adjustable layout, its only available to premium members.
If you are in search of a discount broker with low pricing fees and is a great fit with your needs, Firstrade is your best choice.
As always, if you have any questions or comments regarding FirsTrade, please leave us a message below!