Warrior Trading

The Ultimate Home for Momentum Day Traders
Ross Cameron's Courses, Scanners, Charts, Breaking News, Chat Rooms, and Simulator—customized for aspiring and experienced day traders. Become a part of our exceptional stock trading community today.
I'm a day trader, husband, father, and teacher.
I'm proud to say that I am one of the few who have made a successful career as a day trader. I've also been successful as an educator for a few very important and surprisingly rare reasons.
First and foremost, I value transparency. I share my biggest winners AND my biggest losers, and I provide copies of my broker statements publicly right here on our website. My gains have also been subject to independent audits.
Secondly, I love teaching. I am energized by the enthusiasm of students excited to learn. I grew up in a family that was part of academia, and I'm the third generation to be either an educator or part of the school system. Students repeatedly share with us how much they enjoy learning from me.
You might be visiting after finding me on YouTube, where I've been sharing my journey and educating others about the market since 2013. Coming from a family of teachers, it's no surprise I wanted to help others who share the same passion for the markets that I have.
The road to becoming a profitable trader was a hard one for me, as it is for so many others. The statistics that most day traders lose money are well known, and when I got started I did, too. I started Warrior Trading to help other traders avoid some of the costly mistakes that I made. There was a large gap in the market needing to be filled with a comprehensive course paired with complementary tools and strategy development, so I set out to provide just that for aspiring traders.
I often repeat a phrase while I am trading each morning:
"easy come, easy go"
Those words are a reminder to me—and more importantly to our Warrior Trading students—that day trading is not a get-rich-quick pursuit. Your biggest wins in the stock market can easily be followed by your biggest loss.
On any given day someone can get lucky and hit a winning trade. But luck runs out. In order to be consistently profitable in the market, traders need mental discipline, the right tools, and a proven trading strategy. Rather than view the stock markets like a casino, traders should treat their career in day trading like a business—one that takes time to build and grow.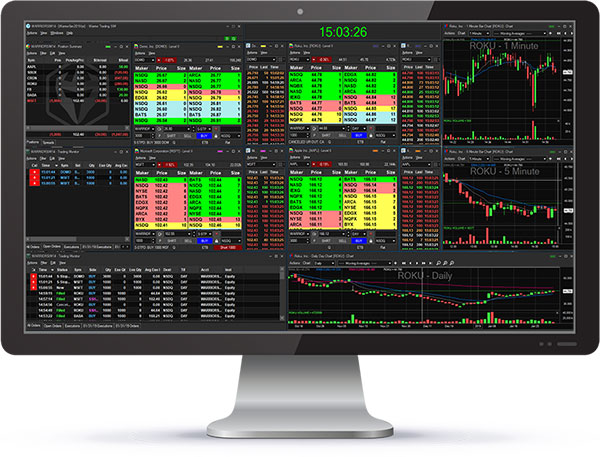 Warrior Trading provides education, tools, and support for every step in your journey to becoming a day trader. It starts with our strategy courses where students learn the fundamentals of trading. Next, you'll be able put that knowledge into practice in our simulator—which allows you to practice trading without the financial risk. Once you are ready to trade with real money, we provide you with tools like our Stock Scanners to find the best opportunities for profitable trading each day. Our Trading Psychology Team, the community of our Live Trading Chat Room, and our dedicated support team will also help you manage the emotional highs and lows of day trading.
I invite you to explore our website, our blog, and to register for our daily workshop to see if our education and support are right for you. We've built a vast amount of free resources so that those who are curious can learn more before deciding if trading and/or becoming a student is right for them.
My success as a trader has enriched my life with more time and the ability to give back to my community. A day trader is their own boss, so I decide when to work and that ultimately means more time spent with my family and doing the things that I love. It also allows me to financially support causes and organizations doing meaningful work in my community of Western Massachusetts. If you find success in the markets, I hope you will do the same.
Thanks for visiting, and happy trading!
Ross and the Warrior Trading Team
A Tradition of Charitable Giving
A core value of Warrior Trading is supporting our community in Western Massachusetts and beyond. Ross, his family, and the team at Warrior Trading all believe that part of the joy of success is having the ability to financially support causes and organizations doing outstanding work. Below are some of the causes and organizations that Warrior Trading has supported.