Trading and Traveling with Warrior Trading
Hey everyone!  I wanted to make a blog post on Trading and Traveling.  As you guys all probably know, I don't travel much.  I'm not a jet setter flashing dollar bills and a million dollar life style.  That's just not who I am.  Even though I've been very successful, I celebrate that success in my own ways.  I'm a homebody and I'm perfectly content to stay in Vermont with my family and dogs, work in my barn or the gardens, and tinker with projects around the house.  But sometimes there is the need to travel for weddings, or simply to get away.  This winter was pretty dreary in Vermont and I wanted to get away so I decided to fly to California for a week in April.
Traveling means spending money, and for most, taking a paid vacation.  For self employed day traders, there is no such thing as paid vacation time.  That means when we travel we either accept we're just spending money and not earning money, or we're trading and traveling.  I have developed a strategy for trading the markets 2hrs a day.  I trade Momentum and Gap and Go setups (we teach these in our Trading Courses).  Making a full-time income working only 2hrs/day when you aren't traveling is pretty awesome, and it makes it easy to trade on the road.  As long as you can put in your 2hrs/day, you are in great shape.
In my case, even if I wanted to take a vacation, I simply can't.  I'm running the Warrior Trading chat room and I put that ahead of everything else.  In fact, I have only taken 1 day where I didn't trade in the last 4 years.  Our 1500+ members expect me to trade the gappers and momo stocks each morning and I couldn't be happier to do it.  Just because I want to go on vacation doesn't mean I want the quality of our chat room content to suffer for members. That means I design my travel around trading.
Portable ATM Machine
When I'm trading in my home office I have an 11 monitor, 3 computer trading station.  It's my work zone, and I spend 12-14hrs/day working there.  Between preparing my watch list, trading the markets, doing mid-day recaps, and then working with students, my days are jam packed.  Clearly I can't bring my entire trading system with me, so I have to work with a modified command center.  My Mobile Command Center, or Portable ATM Machine, consists of 2 laptops and 2 external monitors.  As you may know, I'm a big fan of using laptops as my trading computers, so these are the same computers I use at my home office.  Two out of my three computers come with me.  This is important because my trading layouts, hot keys, and software is already installed and ready to use.  Trading with an unfamiliar computer is like going into a tennis match with a new racket.  That's nuts!  John McEnroe wouldn't do it and neither will I!
The Trading Hardware
Two Lenovo Y50 Laptop – Sold State Hardrive, 16GB RAM, 2.4GHz Intel i7.   – Roughly $1499 from Lenovo
Asus USB Portable Monitor 15.6″, less than 1/2 inch thick and weighs only 1.7lbs.  – $149 on Amazon
Logitech Headphones – These are optional, use them for chat room audio and for my music.
Two Ethernet Cords – This is ideal so you can plug into the hotel LAN instead of using wifi, but it's not always an option.
Carry on suitcase holds both laptops and 2 external monitors, and leaves room for lots of other things too.
Trading Requires an Internet Connection
Everyone knows you need a good internet connection to trade, but when you've been trading from your home office for the last 12 months you get used to the fact that the internet is stable and lightening fast.  That can result in a big surprise when the hotel WiFi can't stay connected or when they simply don't have a reliable connection.  (I dealt with this when I was in Costa Rica.  The internet there was horrible and made it almost impossible to trade).  So I planned my trip around going to places that I knew would have good internet.  Napa Valley has great internet, and is a beautiful place, so it's a win win for me.
When I first arrived in Napa Valley my hotel room has poor signal.  I asked them to move me to a room closer to their main router since they didn't offer Ethernet ports in the room.  They moved me, and trading has been good.   The download speed is only about 5Mbps, and even though it's only about 10% as fast as my Internet in Vermont, it's been good enough for trading.  My preferred broker, Speedtrader, uses very lightweight desktop trading software that isn't resource intensive.  If I were using Ameritrade's Think or Swim software, I might have more of an issue.  I have noticed the upload speed for chat room screen share is a little slow, but it hasn't been bad, and this isn't an issue most traders would need to worry about.
Take it easy, after all, your on Vacation!
Before trading with real money, make sure you test your connections!  I did this on Monday morning during pre-market session.  I placed orders, cancelled them, just to make sure everything was responding quickly.  Once I finished my equipment and internet check, I was ready to trade.  Monday morning I made a $570 profit on $AMDA, $MNOV, $RXDX, and $LMCA.  Today I locked up $990 on $FBIO, $FELP, and $RPRX.  So I'm already up over $1500 on the week.  I'm trading from 6am California Time thru 9am, and then I can go drive around and enjoy the warm weather.  Even though I'm still working everyday, a 3hr work day is vacation for me, and I'll take it!
Important words of wisdom, and a reminder to myself, you're on vacation!  Take it easy.  This is not the week I'll be taking 10k positions or looking for monster wins.  I'm reducing my position sizes, and I'll be happy to hit my $500 daily goal.  My $1k target would be nice, but I won't push it.  The last thing I want to do is have a big loss while I'm on vacation.  I know I'm not going to be able to achieve peak trading performance with 1/4 of my work station, so I won't try.  I'll adjust my goals to what is reasonable, make my $500/day, and go enjoy the weather.
I hope this helps anyone else who is needing to travel soon, or thinking about taking a little vacation.
Enjoying some afternoon Rock Climbing
San Fransisco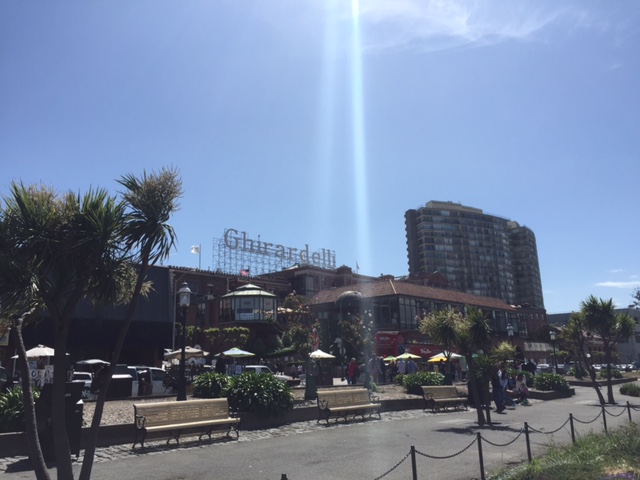 Napa Valley