Value for Investors

Value for Active Traders

Commission & Fees

Platform & Tools

Customer Service
Summary
Bookmap is a solid tool for traders and investors looking to have a better visualization of markets that will provide a necessary edge in this competitive industry.
Pros
Free subscription plan
Fast refresh times
Trade capability
Software connects to external brokerage accounts
Many educational resources
Forex trading is possible on the free plan
Cons
No mobile app
Many potential tools are absent
Best subscription plan is pricey
No trading capability for some asset classes
Limited selection of compatible brokerage firms
Brief Overview
Bookmap is a high-level price analysis and trading platform.
It's capable of delivering in-depth insight into an asset that other software platforms can't provide. But the program fails to deliver many important tools. Here are the details:
Services Offered
Bookmap's crown jewel is a platform that delivers sub-second price analysis on stocks, ETFs, futures, and cryptocurrencies. Several asset classes aren't available, including bonds and options.
The software is designed for day traders who want to drill down on an asset's price action. Focus areas include volume, last trade, order book, and bid and ask numbers.
Besides its software, the company also provides many educational resources. For example, I found these great learning opportunities:
Webinars from pro traders. These are available in multiple languages.
Blog. Interviews and articles.
Video-based education courses. With training exercises.
Live trading chats. These include order flow analysis and Q&A sessions.
As for actual trading, Bookmap's software can be used to submit orders for stocks, ETFs, futures, and cryptocurrencies. Live trading does require a link to an API or brokerage account. And a paid subscription is required to trade some assets.
One of the major downsides of Bookmap is the lack of compatible brokerage firms. Currently, Bookmap supports about 30 data feeds and brokers. Examples include:
Coinbase
Binance Futures
Ninja Trader
Interactive Brokers
dxFeed
Downloading the Software
To get started at Bookmap, the first thing you'll want to do is download the company's software. This can be accomplished by going to the homepage and clicking on the blue Start for Free button.
Just follow the prompts and you'll be able to download the platform for either Windows or Mac.
Once you install and open the software, you'll need a license key.
To get this, you'll want to log into the website and head over to the user portal. You should also receive this key in a welcome e-mail that Bookmap will send you.
Make sure it's not in your spam folder!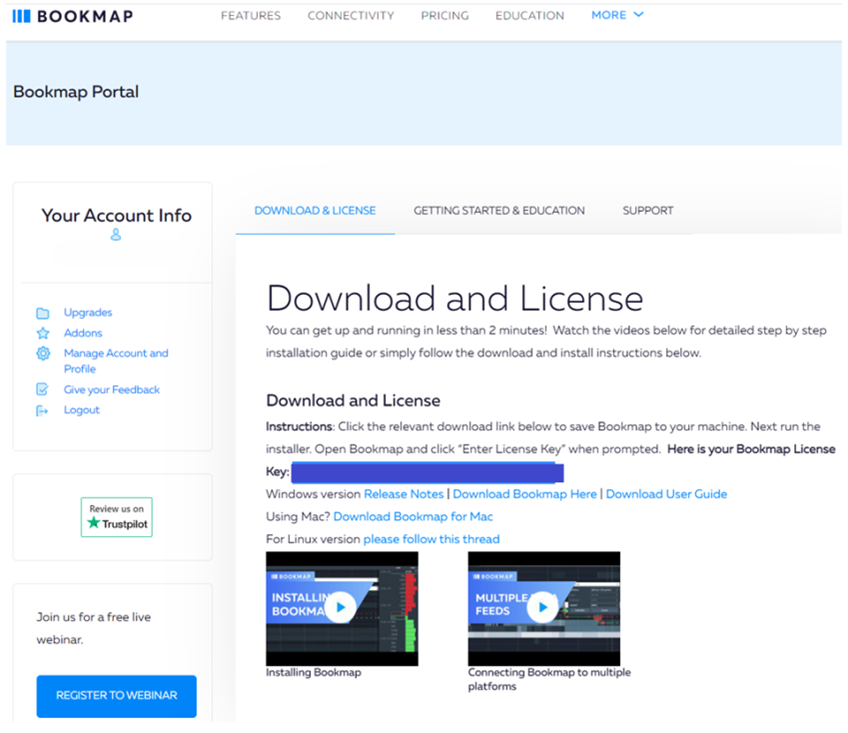 Software Highlights
Bookmap's platform offers tools and an interface you won't find with other companies. Here's a rundown:
Charting in Milliseconds
At the heart of Bookmap's platform is a streaming chart. Data is refreshed about every 30 milliseconds, a great feature that's hard to find anywhere else. To add an instrument, just click on the plus (+) sign in the row above the chart.
The background of a chart is composed of horizontal bars of different colors. This heatmap (or colormap as Bookmap calls it) is built from an asset's order book in the immediate past.
There are three default color schemes, and it's possible to customize them.
Using the top row of icons, it's possible to turn a crosshairs on or off. There is also a screenshot button.
This is a great tool if you want to quickly save a picture of a chart. And a pen icon reveals the software's drawing tools. 
Current Order Book
The colormap is the order back in the past. The current order book is displayed to the right of the graph. Red and green are used, but these colors can be changed to anything you want. Prices are updated at lightning speed. 
3D Bubbles
A unique feature on Bookmap's price action is bubbles. These reveal trade volume. The bigger the bubble, the larger the volume at that point. Green represents buying pressure, while red symbolizes selling.
Best Bid and Ask
Underneath the 3D bubbles are red and green lines. These are an asset's best ask and bid prices. Hovering over a line will produce a pop-up window with the time, quantity, and price.
Trade Ticket
One of the most notable features on the platform is an integrated order ticket. It can be turned on and off using the padlock icon in the menu. When enabled, it appears on the left-hand side of the chart.
It's possible to populate the trade ticket by clicking in the chart area that represents the immediate future.
This area is right next to the order book prices. Clicking on a bar next to a specific price produces a limit at that price. A right click of the mouse is for sell and a left click will generate a buy order.
There are several trade types on the order ticket. They include OCO, bracket, and trailing stop.
Pricing Schedule
A really great feature of Bookmap is the ability to try out the platform free of charge. The Digital subscription plan is completely free and comes with these highlights:
One-click cryptocurrency trading
Heatmaps, volume dots, CVD and volume profile columns
Webinars
One ticker symbol viewable at one time
Delayed data on futures and stocks
The problem with the free plan is that many services are either scaled down or missing altogether. That's why Bookmap created the Global plan. For $49 per month (or $120 per year), you'll get everything on the free schedule, plus:
Record / Replay, VWAP, POC
20 ticker symbols viewable at once
Real-time market data on futures and stocks (with a data plan)
Order flow analysis webinars
Compatibility with all available add-ons (the free plan comes with limited compatibility)
If the second tier isn't quite what you need, you can upgrade to Global Plus. The charge is $99 per month (or $240 per year). It comes with everything Global offers, plus:
Ability to trade stocks and futures straight from the platform (the other two plans do not offer futures and stock trading, an obvious drawback)
LLT, Strength Level, Imbalance
Advanced trading courses
Live trading sessions with professional traders 
Both Global and Global Plus plans have lifetime memberships. Global costs $990, while Global Plus is $1,990.
Educational Resources
Although Bookmap customers subscribe primarily for the company's trading and analysis platform, it does offer some decent educational materials. During my research, I found a webinar that overviews the platform.
It is designed for new customers and requires just an email address to sign up. It broadcasts live on Monday, Tuesday, and Friday mornings.
A more sophisticated webinar is available to users of any subscription plan on Friday morning.
It covers order flow analysis and includes a Q&A session. The same webinar is available Monday through Thursday for Global and Global Plus customers.
Bookmap Marketplace
One of the downsides of Bookmap's platform is a lack of analysis tools. This weakness can be mitigated with some add-ons, which are available through the company's marketplace.
For example, a Bollinger Bands indicator costs $5 per month and comes with a 5-day free trial.
A much more expensive add-on is the FV Keyboard Execution PRO widget.
It costs $349.99 and lasts literally for a lifetime. Some of the features of the software are keyboard shortcuts and automatic order adjustments.
The best value is the General Indicator Package. It's free and includes:
Commodity Channel Index
VWAP with 2 Standard Deviations
Moving VWAP with 2 Standard Deviations
Market Profile Developing levels (VAH, VAL, POC)
Customer Support
Bookmap does back up its services with customer support channels. The first is a phone number.
When I called in for a test, I got a recorded message telling me to leave a message. Bookmap's customer service department is on a call-back basis only. Hours of operation are 9:00 am until 5:00 pm, EST.
While the call-back service is a disappointment, I did find a chat feature on Bookmap's website.
This service was able to answer the questions I had. Bookmap also has an e-mail address if you're not in a hurry: [email protected]
Bottom Line
Day traders who require in-depth trading visualization will find much to like with a subscription to Bookmap.
From time to time we refer third-party products or services to you. We may receive compensation from those third parties whose products or services we refer, however, our reviews and recommendations are independent of any compensation we may receive. There is no obligation for you to interact or transact with these third parties.