If you spend any time on Instagram, then you are bound to have heard of Dan Bilzerian, the 'Instagram King'. Dan Bilzerian's life seems to be made up of one adventure after the other, and always in the company of smoking hot babes in next to no clothes, so it is no surprise that cameras are flashing everywhere he goes.
The son of a famous corporate raider, Paul Bilzerian, Dan Bilzerian has transformed his privileged background into a life of celebrity fame and international business success. After a short career in the military, Dan went to university to study business. Among his many profitable business ventures, Dan has also found the time to become a famous poker player and sports car racer.
Green Axis Capital
Dan has focused his business acumen, boundless energy and zest for life on revolutionizing the global market for marijuana by taking his company, Green Axis Capital, public.
Green Axis Capital is intended to become a world leader in the global marijuana industry through strategic investments in promising companies related to the growth, marketing and distribution of marijuana and marijuana-derivative products.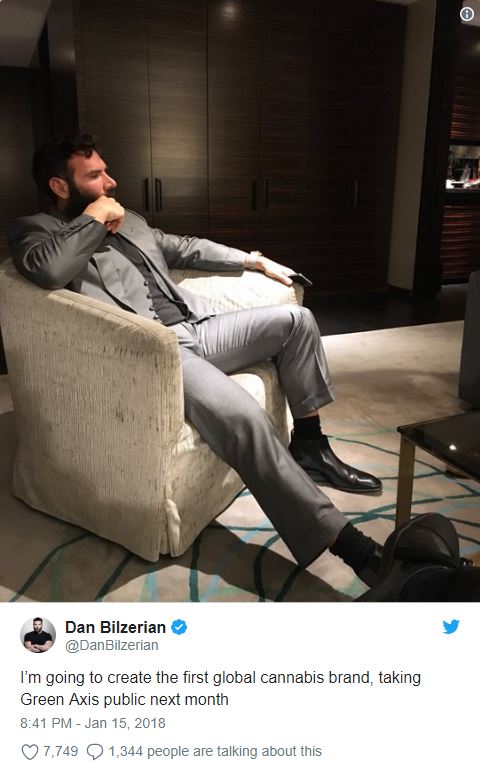 The basis of Green Axis Capital is the combination of 3 existing companies: ALQ Gold Corp., Vulcan Enterprises Ltd. and Salvation Botanicals Ltd.. ALQ Gold Corp. will be the foundation of the new company, with Vulcan and Salvation Botanicals bringing essential complementary elements to the team.
Vulcan Enterprises Ltd.
Vulcan Enterprises Ltd. is the corporation that owns the intellectual property rights to Dan Bilzerian's public personality with respect to marijuana, including certain images and phrases involving Dan and marijuana.
Vulcan is seen as the key marketing element in Green Axis Capital, using Dan's widely known public person to promote the use of marijuana and the growth of the global marijuana industry as a whole. Part of the incorporation agreement involves public appearances by Dan to promote marijuana use generally and Green Axis Capital's ventures specifically.
Salvation Botanicals Ltd.
Salvation Botanicals is a successful Canadian company that produces and distributes a wide variety of marijuana and marijuana-based products. It also has an industry-renowned research branch producing some of the most cutting-edge knowledge in modern marijuana research.
Salvation Botanicals has undergone the extensive legal and regulatory requirements necessary to produce and distribute the full range of marijuana and marijuana-based products, which makes it an ideal vehicle for the broader promotion of a global marijuana brand as envisioned by Green Axis Capital.
What's Next for Green Axis Capital?
The months following the merger and establishment of Green Axis Capital has involved a heavy round of promotion by Dan Bilzerian, including nightclub and other public appearances.
Behind the scenes, the finalization of the company structure and the approval for public listing is still on-going, but the ticker symbol 'BILZ' has been reserved for this marijuana stock.
Revolutionizing the Global Marijuana Industry
The global decriminalization and legalization of marijuana was a slow process until it reached a watershed moment a decade ago. Now many Western nations are rapidly decriminalizing marijuana use, and beginning to create legal and regulatory frameworks for its growth, distribution and consumption.
While the acceptance of legal marijuana in principle has evolved rapidly, the same can not be said for the development of the necessary legal and regulatory frameworks for overseeing the burgeoning legal marijuana industry. The result is a fragmented industry with a large number of small, local companies that have little brand awareness or in-depth market research.
Dan Bilzerian and Green Axis Capital intend to capitalize on this fragmented marijuana industry by developing a global brand of marijuana and marijuana-based products by modernizing and professionalizing the currently largely amateur marijuana industry.
To accomplish this goal Green Axis Capital will be acquiring valuable companies and incorporating their strengths into its global brand. The idea is to create a globally-recognized brand that has products based on cutting-edge research and development, extensive market research and regulatory approval for operating unfettered in all legal markets.
A large investment corporation operating on contemporary principles in corporate finance and governance should be able to rapidly dominate and consolidate the currently fractured global market for marijuana.
The Future for Dan Bilzerian, Marijuana and Green Axis Capital
Analysts everywhere are in agreement that the global market for legal marijuana will be enormous. Global alcoholic beverage conglomerates are some of the largest and most profitable companies in the world, and all expectations are that legal marijuana will come to rival the market for alcoholic beverages.
The largest impediment to the growth of legal marijuana is the slow process of regulation. Many local and federal governments seem happy to simply kick the can down the road, and only offer a confusing mess of rules and regulations that produce a mound of red tape and which are inconsistent with other jurisdictions.
This regulatory mess keeps marijuana companies small and local for now. However, this will not always be the case, particularly as governments start to recognize the incredible revenue potential of taxing marijuana production and consumption. Once this period of regulatory inefficiency passes, the marijuana industry is set to explode in size and scope.
Those companies that are positioned now to capitalize on this inevitable outcome, such as Green Axis Capital, will come to dominate the global marijuana industry. They will be able to establish brand names and develop globally recognized products that offer consumers a high quality and consistent experience, the kind of global standard that now governs the production and sale of alcohol.
The Sky Is the Limit for Dan Bilzerian and Green Axis Capital
The companies that end up dominating the market for legal marijuana will rival those companies that dominate the market for alcoholic beverages. That means billions of dollars in market capitalization, which is orders of magnitude above what most marijuana companies are worth today.
Green Axis Capital is currently positioned to be the dominant force in the market for legal marijuana, and the value of its shares could increase many times over from its initial public offering price and out of the doldrums of penny stock land. Dan Bilzerian's Green Axis Capital offers investors all the excitement and passion that Dan is famous for, and it will likely be the dominant name in legal marijuana products for decades to come.