Value For Investors

Value For Active Traders

Commissions & Fees

Platform & Tools

Customer Service

Order Execution

Mobile Trading

Options Trading
Summary
TradeZero offers competitive commissions along with a powerful platform for active traders and direction market access. The biggest downside is they don't allow US citizens to open accounts with them.
Pros
Wider range of investment vehicles than some other day-trading firms offer.
Several platforms to choose from.
Software fees are competitive.
Rebates are available for active traders.
Two separate insurance policies.
No PDT rules.
Only $500 is required to start day trading.
High degree of leverage with a small balance.
No additional fees for infrequent traders.
Cons
Not regulated by the U.S. government.
No SIPC insurance.
Both forex and futures are missing in action.
Customer service is available only during the weekday.
Wiring money into and out of an account regularly will get expensive.
Low-priced stocks have lots of restrictions.
TradeZero Brief Overview
TradeZero is a Bahamian brokerage firm that offers some enticing day-trading services at low cost. There are a few caveats that some traders will need to take notice of, however. Here's the lowdown:
Insurance and Regulatory Framework
TradeZero is headquartered in the Bahamas and regulated by the Securities Commission of that country. It is not a member of FINRA, the SEC, or SIPC. Although it's not a part of SIPC, TradeZero accounts are insured.
The broker-dealer has policies with Lloyds of London and Bahamas First General. The latter group has a rating of A- (considered excellent) from A.M. Best.
Available Services
TradeZero offers:
ETF's
Stocks
Warrants
Options
This is a larger list than some offshore brokers offer. Capital Markets Elite Group, for example, only offers trading in stocks.
In addition to equity trading on the major American exchanges, TradeZero also provides access to the over-the-counter marketplace. Extended-hours trading (both pre-market and after-hours) is available; and so is day trading.
Day Trading at TradeZero
TradeZero provides many services that day traders need. These include margin, direct-access routing, Level II quotes, short locates, and a professional-level desktop platform.
Perhaps its biggest advantage in this area is the lack of pattern day trading (PDT) rules. Because the brokerage firm is not subject to SEC regulation, there is no $25,000 account minimum to day trade. The broker does impose a $500 account minimum for day-trading privileges.
Leverage
TradeZero allocates leverage based on account size:
Accounts that have at least $2,500 in assets can day trade with 6:1 leverage.
Accounts with 6:1 leverage cannot have more than 75% of margin buying power in a single holding.
Accounts above $500 get 4:1 leverage.
There is no leverage below $500.
TradeZero prohibits accounts from holding more than 2:1 leverage at 3:55 pm, EST (5 minutes before the closing bell). The broker states that it reserves the right to cover or sell securities to bring leverage below this level.
Account Policies 
There are a few policies that the most ambitious of traders may find unpleasant: 
Equities priced under $1.00 can't be shorted.
Equities below $3.00 are cash only.
Equities under $0.10 can't be traded at all.
The broker will close any account that slips below $100.
Nationality Restrictions
Maybe the worst policy of all is TradeZero's nationality policies. The brokerage firm will not accept applications from U.S. citizens, U.S. residents or Canadian residents. When we tried to open an account, the United States was not a selectable country in the online application.
Oddly, TradeZero also doesn't allow Bahamian citizens to open accounts.
TradeZero Pricing
As its name implies, TradeZero offers (some) equity orders commission-free. To qualify for the $0 price tag, an order must be an unmatched limit order. And the stock must trade at $1.00 or higher on the Nasdaq, AMEX, or NYSE.
Other orders cost $0.005 per share with a $0.99 minimum. Placing a trade with a live agent costs $20.
Short locates for hard-to-borrow shares incur fees. They are based on the difficulty to borrow the stock on that market day.
Option contracts carry a 99¢ base with a 79¢ per-contract charge. Assignments and exercises cost $35 each.
Deposits and withdrawals could get really expensive for non-Bahamian residents. An outgoing wire is $70, and the other direction costs $30.
On the plus side, there are no inactivity fees.
Software Fees
There are three software programs at TradeZero:
The broker-dealer charges an extra $25 per month to trade options on ZeroFree.
The broker also has a mobile app. Derivatives can't be traded on it; and it lacks several important features, including Level II quotes and alerts.
Trading Tools
ZeroPro
TradeZero's flagship trading platform is ZeroPro. The software has some really nice features. During our trial run of the program, we found the Level II window easy to use.
The platform's order ticket lies within the Level II quote box. There are separate buttons for sell and short. There are also distinct buttons for buy and cover. All four are color-coded for faster and easier order entry.
During our testing of the trade ticket, we had no problem submitting orders quickly. Level II numbers are shown in shades of blue instead of multiple colors.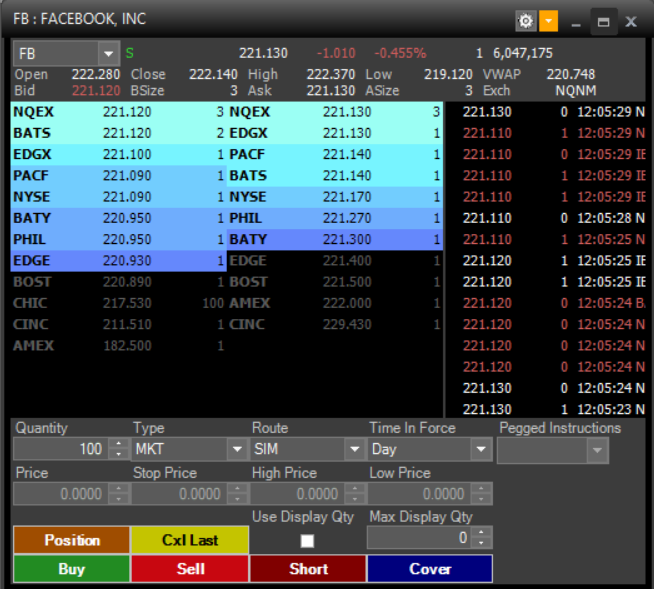 Options traders will really like the derivative trading window, which is separate from the Level II box. Another ticker symbol needs to be entered here, because the one entered in the Level II window doesn't transfer.
With a ticker symbol, the window shows put and call prices along with volume and the current bid-ask spread. The software incorporates a direct-access routing menu. There are several time-in-force choices, including on-the-open and immediate or cancel.
What we didn't like about the options window was the lack of multi-leg strategies. Calls and puts are it apparently.
Charting on ZeroPro comes with roughly 100 technical indicators. For example, we found:
Chaikin Money Flow
Ultimate Oscillator
r-Squared
A chart can be expanded the width of the monitor for easier analysis. Drawing tools are integrated as well. Examples include polygons, lines, and rectangles.
A right-click of the mouse on a chart generates a drop-down menu. Here, the background color of a graph can quickly be changed. Missing in this menu is a trade button.
A really nice tool on ZeroPro that we liked was a hi/low ticker box. Streaming in here is a list of stocks that are hitting 52-week highs and lows and intraday highs and lows.
A watchlist makes an appearance, and the entries can be quickly changed. Hot keys are integrated as well; and not to be missed is a short locate window.
One of the really nice features of ZeroPro is the ability to move windows around, add windows, and delete them. Multiple chart windows can be created with different timeframes. ZeroPro permits up to six Level II windows to be open at the same time. 
ZeroWeb
One step below ZeroPro is ZeroWeb. As the name implies, the software operates through a web browser. It will work on any operating system. Some of the features include: 
Advanced charting with tick-by-tick price action. There are drawing tools, technical indicators, and extended-hours price-action.
Level II window. Both Level I and II quotes are available. As on ZeroPro, Level II numbers are color-coded, and the platform's trade ticket is integrated.
Hot Keys. It's possible to use ZeroWeb without ever using the mouse.
On ZeroPro, up to 5 watchlists can be created. Each can have up to 30 ticker symbols, creating a total list of 150 securities. The watchlists are updated with real-time market data. 
Other Platforms
Below ZeroWeb is ZeroFree. Although this one carries no monthly charge, a lot of advanced features are missing. These include OTCBB quotes, hot keys, Level II data, and options trading. They can all be added, but they come with monthly fees. Amazingly, a short feature is integrated in the software.
ZeroFree is able to function on tablets and phones and all operating systems. Charting comes with a few technical studies, multiple graph styles, and extended-hours price history.
The last piece of software TradeZero offers its customers is a mobile app. This one also has a short locate feature. Missing on the platform is options trading. During our investigation, we also didn't find alerts or Level II data. Highlights include:
News articles
A watchlist
Trade ticket
Charting
Final Thoughts  
A Bahamian broker (SureTrader) recently went out of business. This event was evidence that the Securities Commission of The Bahamas is on its toes and doing its job.
It was also a reminder of the difficulties of doing business with off-shore brokers.
Keep in mind that US residents cannot open an account with their offshore branch, but are welcome to open one with TradeZero America. The PDT rule will apply with TradeZero America.
Bottom Line
TradeZero is worth a shot if you have less than $25,000 in assets but want to day trade inside a brokerage account with insurance.
Broker Rebate Program
Click on the image below to see how you can save on your Warrior Trading education through the special rebate program we've started with TradeZero!
As always if you have any questions or comments regarding Trade Zero, please leave us a message below!