Value For Investors

Value For Active Traders

Commission & Fees

Platform & Tools

Customer Service

Order Execution

Mobile Trading
Summary
For an investment firm that is barely a decade old, Capital Markets Elite Group has grown to be a formidable force. We really like how easy it is to use their platform along with their commission structure choices, not to mention you don't have to worry about the PDT rule with them!
Pros
Multiple software platforms to choose from.
No PDT rules.
Start day trading with just $500.
No commissions on stocks in a standard account.
High leverage for accounts above $2,500.
Americans can open accounts (if they know what they're doing).
Cons
Software fees can be high, especially for infrequent traders.
Short locates can be expensive.
Most investment vehicles, including options, aren't currently offered.
It's an offshore account regulated by Trinidad and Tobago's SEC.
The active account's commission schedule can be steep for infrequent traders.
Inactivity fees for both account types.
Capital Markets Elite Group is a fairly new brokerage firm. Launched in 2013, it currently offers trading in stocks only. CMEG customers get to choose from several software platforms, which we'll look at shortly.
Besides trading accounts, CMEG also offers investment advisory and investment banking services.
Regulation and Insurance
Capital Markets Elite Group is headquartered in Trinidad and Tobago, which means there's no American regulation from FINRA or the SEC. This situation creates both advantages and hazards. CMEG is not a member of SIPC, either.
Services Offered
CMEG's investment advisory service is aptly called Managed Portfolios. The program offers four portfolio types: core, conservative, moderate, and aggressive. In all four cases, ETF's are the primary investment option. Mutual funds are available for the core selection. Customers who sign up for the program get to work with a financial advisor, a major plus.
Self-directed traders right now don't get mutual or exchange-traded funds. According to CMEG's customer service, the broker may launch the securities for self-directed trading later in 2020. But as of now, only stocks can be traded.
CMEG does plan to launch options trading in the first quarter of 2020. Other investment vehicles the broker plans to offer at some point in the future include:
Futures
Forex
Contracts for difference
Bonds
Day Trading with CMEG
Margin accounts are available, and these of course can be used for day trading and shorting stocks. Direct-access routing is also available on some platforms.
Day traders will love the broker's rules for short-term trades. For example, there is no pattern day trading (PDT) rule in place. How is this possible? Because the company is located outside the United States, it operates under different regulations.
In order to day trade, CMEG clients need just $500. This is much lower than the $25,000 the U.S. SEC requires.
Leverage
Accounts valued between $500 and $2,499 have the following buying power:
100% maintenance requirement for long stocks priced less than $2.
50% maintenance requirement for stocks between $2 and $4
25% maintenance for stocks above $4.
Accounts with assets of $2,500 or more get more leverage for stocks above $4. The maintenance requirement is just 16%. The other numbers are the same.
Overnight margin is 2:1. Long positions held overnight are subject to an interest rate that varies from 4.5% to 7.5%, depending on position value.
Account Types
There are two account types available to self-directed traders: standard and active. The standard account is the basic (and less expensive) package.
The active account gets better software choices, faster execution, no PDT rules, and ultra-low latency. CMEG also promises better customer service for the active account.
Account Opening for U.S. Persons
CMEG does not solicit U.S. persons to open accounts. It is possible, however, for U.S. persons to open an account with the broker. They simply need to go to the CMEG site (www.cmelitegroup.com) and verify that they haven't been solicited.
A pop-up window will appear when the site detects a U.S. IP address. Canadians cannot open an account under any circumstances.
Commissions and Fees
The cost of trading with Capital Markets Elite Group varies, depending on which account type you have. Here are the numbers for the standard account: 
The standard commission for trading stocks obviously looks great. But the standard account doesn't come with the same tools that the active account offers. Here are the equity commissions for the active account:
The active account numbers don't include regulatory or routing fees. There is an inactivity fee of $50 per quarter if an account has fewer than 15 trades in the quarter.
Options should be available in early 2020. They will cost anywhere from 40¢ per contract to 70¢, depending on monthly account volume.
Stock locates cost $25 per occurrence. Some stocks may also have a per-share fee. Short positions that are held overnight incur a fee equivalent to 0.5% of the stock's market value.
Directly routing an order will generate fees and rebates from the various market venues. These vary by market maker. Currently, orders that add liquidity sent to ARCA NYSE cost $0.002 per share. And orders that take liquidity receive a rebate of $0.003 per share.
Software Fees
Traders who sign up for the active account get to use either Sterling Trader Pro or Direct Access Software (DAS). Sterling costs $99 per month, while DAS is $90. Both software platforms offer rebates for generating high levels of monthly commissions.
The platform for the standard account is free.
Software    
The broker's customers can place orders (and perform many other functions) on one of several platforms.
Standard Account
The standard account comes with the Traders Elite Terminal (TET). This is the same desktop platform that Interactive Brokers uses. Active accounts at CMEG can't use it.
Some of the highlights on CMEG's version of the platform include Level I streaming data, charting with tools, headline news articles, and watch lists. The software has option chains and several advanced option tools.
During our testing of the platform, we found charting to be on a very advanced level. There are close to 100 technical indicators, right-click trading, and several drawing tools. The program incorporates only 2 graph styles, though: candlesticks and OHLC bars.
The trade ticket on TET offers some really nice features. Bid and ask numbers can be displayed in different versions. These include % of spread, +/- tick, and price line. This last option is the default view. Order types include on-the-close, snap, trailing, and stop.
Standard Account: Mobile Trading
Also included in the standard account is a mobile platform called Handy Trader. It functions on both Apple and Android devices. Once again, it is the same software that Interactive Brokers uses.
The mobile app offers a lot of excellent features, including horizontal charting with up to 5 years of price data. A gear icon in the upper-right corner of a chart is where customizations and tools are found.
In addition to a regular trading ticket, the mobile software also has something called a wheel order entry system. To access it, just tap on "wheel" on a stock's profile. There are prices in the far-left column. Tap on one to set the limit price.
Quantity has its own wheel on the right-hand side, and on the far-right side is dollar amount. The software will convert it to number of shares. Then simply tap on buy or sell to create the order.
Active Account: Sterling Trader Pro
Sterling Trader Pro is available both as a desktop platform and a mobile app. The desktop software has some really robust features. These include Level II quotes, hot keys, a stock locate tool, several order types, and direct-access routing.
One issue we didn't care for was the fact that the software doesn't have a single window by default. The work space is actually composed of several small windows, which can be connected.
The software's charting performance is on a high level. During our investigation, we found roughly 100 technical indicators and multiple drawing tools. There are Darvas Boxes, Heikin Ashi price style, and up to 19 years of price data.
It is possible to expand a graph the full width of the monitor. Missing in the charting package is right-click trading. There is a drop-down menu that appears with a click of the mouse, but there's no trade button. There are also no trade buttons anywhere in the charting window.
A Level II window makes an appearance on the platform, and advanced traders will definitely want to use this. We liked the tool's use of color-coded price action, which groups the same prices into one color.
The Level II box is also where traders will find the software's order ticket. The buy button is blue, not green. And there is a dedicated short button for shorting. There are several order types, including extended hours, IOC (immediate or cancel), and FOK (fill or kill).
Although it's not part of the default layout, an options order entry window is also available. It sits in the platform's menu, which oddly is in the lower-left corner.
The options trading tool also offers color-coded Level II data across multiple venues. A drop-down menu can be used to specify open or close. A destination menu incorporates many venues.
Active Account: Sterling Trader Mobile
Sterling also has a mobile app that CMEG clients can use. During our testing of it, we found it user-friendly. The default tab is a layout of the day's biggest movers. Tapping on a tile produces a stock profile page with the following features:
Charting
News articles
Option chains
Market Depth. This last choice is Level II data.
The software's order ticket has market, limit, stop, and stop limit choices. Time-in-force options include GTC, extended hours, and day. We found no fewer than 7 venues for direct-access routing.
Sterling's app also has alerts and a watchlist.
Active Account: DAS
Like Sterling Trader Pro, DAS has a lot of useful features for day and swing traders. A market view window displays the day's bid and ask numbers along with high and low figures. Time & sales data make an appearance along with a news window. This latter box has a really useful feature that will actually read the news article to you.
The order ticket on DAS provides color-coded Level II quotes for any entered ticker symbol. There is no sell button if you don't currently hold a position. Instead of a sell button, there's a red short button. Duration choices include a few options that aren't on Sterling, such as day+ and a few minute varieties.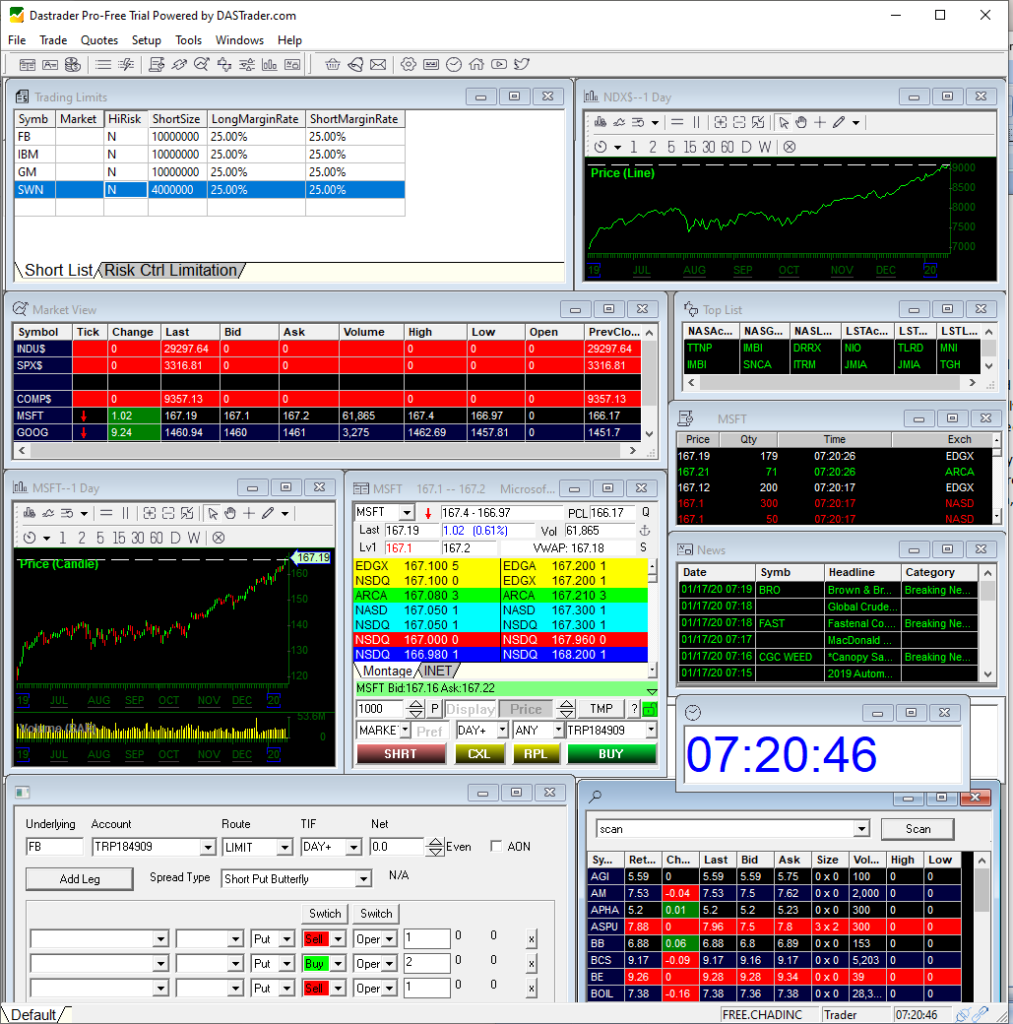 Charting on DAS offers a right-click menu. Here, a chart's colors can easily be adjusted. There are also drawing tools here. A chart can be saved or expanded full screen. Unfortunately, we counted less than 50 technical studies.
In the top menu, there's a YouTube icon. Clicking on this will take you to DAS Trader's video channel. Here, we found lots of helpful tutorials for the software.
Final Thoughts
Capital Markets Elite Group does an excellent job of eliminating PDT rules. Global traders have the opportunity to day trade with less than $25,000. This service comes at a price, however. Day trading is only possible in an active account. Fees and software charges can be steep, especially for occasional traders.
Granted that the U.S. SEC hasn't always done a perfect job, but Trinidad and Tobago's regulation has to raise some concerns. CMEG's customer service is English speaking (English is the official language of the country). But we didn't find the customer support to be overly spectacular in our trials of it.
The broker promises to launch options trading soon. But it's been in business for several years. One has to wonder what the hold up is there. Even ETF's can't be traded right now.
Bottom Line – CMEG Broker Review
We can recommend CMEG for day trading stocks. For everything else, we will wait and see.

Important Notice
Capital Markets Elite Group Limited is not affiliated with Warrior Trading.  We have no authority to make any representation, recommendation, or commitment on their behalf.  We provide recommendations of various brokerage firms based on our own evaluation and not on behalf of those firms.
U.S. Persons–In the case of Capital Markets Elite Group Limited, it is important that U.S. Persons understand that Capital Markets Elite Group Limited is registered as a securities broker-dealer in Trinidad and Tobago but is not registered or licensed as a securities broker-dealer with the U.S. Securities and Exchange Commission or with any other regulatory authority in the U.S.  Therefore, Capital Markets Elite Group Limited is not permitted to solicit business from U.S. Persons.  If you are a U.S. Person and you attempt to do business with Capital Markets Elite Group Limited, you will be required to certify to them that you have not been solicited by them and that you approached them without prior solicitation by them.  If you are a U.S. Person and are not able to make that certification truthfully, you should not attempt to open an account with Capital Markets Elite Group.  If you are able to make that certification truthfully and choose to open an account with Capital Markets Elite Group Limited, you should be aware that you will not receive protections that might be afforded to you if Capital Markets Elite Group Limited were registered as a securities broker-dealer in the U.S.
Canadian Persons–Capital Markets Elite Group Limited does not offer services to Canadian residents or to persons using a Canadian bank account or a credit card issued by a Canadian financial institution.