Value For Investors

Value For Active Traders

Commissions & Fees

Customer Service

Order Execution

Mobile Trading
Summary
DAS Trader Pro is a solid platform that will meet the requirements of many day and swing traders. But because it can't be used directly through DAS, you have to go through a retail broker, which can be rather expensive.
Pros
Lots of great tools with discrete windows
Nearly 20 market venues in the direct-access routing menu
Level II quotes available (typically for a fee)
Platform is easy to customize
YouTube videos help learn the software
Hot keys are integrated
Forex and futures can be traded at Interactive Brokers
Cons
Monthly subscription is rather pricey
Unattractive interface
Charting is underdeveloped
Limited selection of graph styles
Fewer than 10 drawing tools
Fewer than 40 technical studies
Screener isn't very thorough
No streaming video news
Brief Overview
Direct Access Software (DAS) is a technology company headquartered in Las Vegas.
As the name suggests, it offers trading tools with direct access to market venues. It also provides services that brokerage firms and institutional clients will want to take notice of.
Products and Services Offered
Direct Access Software offers a long list of software programs for both retail and institutional clients. These include DAS Trader Pro, its flagship desktop program, which we'll look at here in just a bit.
Also on the list of trading tools is DAS ActiveWeb Trader, a browser system.
A mobile app is available, too. It functions on both Apple and Android phones (and iPod and iPad as well). For other devices, the broker offers a mobile platform at mobile.dastrader.net.
DAS Trader DMAr is a smart routing program that uses one connection to provide access to numerous destinations simultaneously.
For institutional clients, the company offers DAS Trader TRT (trade reporting tools). This program delivers front- and back-office account management and compliance software.
DAS Trader MTS is the company's order and risk management trading platform. One master account can manage multiple sub-accounts with software.
Pricing
According to DAS customer service, it's not possible to access its Trader Pro platform directly from DAS.
Instead, users must pay for the program via a broker that is contracted with the software company. Some of these brokers include:
Capital Markets Elite Group The brokerage house charges $90 per month to use DAS Trader Pro. This package does not include data. Fees range from $20 per month for Nasdaq Total View to $65 for NYSE Open Book. Traders who spend $650 or more per month in commissions receive a $90 rebate.
Interactive Brokers The basic package costs $100 per month and includes Level I quotes with access to the U.S. equity exchanges. More expensive packages offer more perks. For an extra $50 per month, you get Level I options quotes, DAS's mobile app, and regional data.
Cobra Trading At Cobra Trading, DAS Trader Pro costs $125 per month. Clients who trade 250,000 shares or more in a month can use the software for free. Market data fees are extra and range from $12 to $100, depending on the feed. Trades of equities on DAS Trader Pro that add or remove liquidity come with fees and rebates.
SpeedTrader DAS ActiveWeb Trader, the browser program, is available at SpeedTrader. The monthly fee is $25. Accounts that pay at least $199 in commissions during the month get the software for free.
Day Trading
DAS is able to offer sub-millisecond order confirmation because its primary services are located in Nasdaq's co-location. For this reason, DAS and its software may be ideal for many day traders.
DAS Trader Pro can be used at CenterPoint Securities with the following short-term trading tools:
Level II streaming quotes
Headline news
Multi-account management
Hot keys
Ability to use multiple monitors simultaneously
Direct-access routing
Multiple data packages
Using DAS Trader Pro at Capital Markets Elite Group eliminates the SEC's $25,000 pattern-day trading rule. This is because CMEG is located outside the U.S. The broker requires an account balance of just $500 to start day trading.
Buying power at CMEG is only 2:1 for stocks priced between $4 and $2. But for accounts with at least $2,500 in assets, the amount of leverage goes up. It's 6:1 for stocks above $4.
Platforms
At this point, you're probably wondering what specific features are available on DAS's platforms. Here are the results of our survey:
DAS Trader Pro
DAS Trader Pro is the software that most day and swing traders will choose. It has a row of icons at the top of the screen, and this is a good place to start. A YouTube icon makes an appearance here.
If you click on it, you'll be taken to DAS Trader Pro's YouTube channel. There are many tutorial videos here that can help beginners on the platform.
There's also a chart icon in the top row. Clicking on this produces a graph, although one graph window is already displayed in Trader Pro's default layout. A chart comes with technical indicators (only around 40 or so), a right-click menu, and drawing tools.
Strangely, we were not able to get a graph to display beyond 12 months of price history. Perhaps DAS has decided that only day and swing traders will be using its software.
A chart can be minimized completely. It can also be shown in a small window along with other trading tools. A third option is display the chart full-screen. Colors on a graph can be customized.
Just right-click anywhere on a chart and choose "Configure." To change the colors of indicators, click on "Study configure."
Order Entry
For actual order entry, there is the Level II window. Here, you'll find bid and ask numbers with their market venues. Prices are color-coded for quick viewing. This of course helps day traders more quickly submit orders.
The ticket is underneath these numbers but within the window.
With one drop-down menu, it's possible to select a specific market maker. Another menu provides several duration choices, including some exotics like 1-minute and 3-minute.
Other windows make an appearance in the default layout. If you lose one, you can add it back by clicking on the appropriate icon in the top row.
Alerts are a standard feature in the platform. We were able to set up triggers and even upload an audio file. The software will play the sound once the specified threshold is reached.
Watchlist
A watchlist is another standard feature on DAS Trader Pro. It appears in a discrete window. Ticker symbols can easily be added and deleted. Columns include standard items like volume and OHLC numbers. The platform's trade ticket will be populated simply by clicking on a horizontal row.
News articles make an appearance in another window. The most common news agency is BusinessWire. The articles are updated constantly throughout the day, which obviously is advantageous for day traders.
And DAS hasn't forgotten about options traders, either. Trader Pro's options chains window can be found under the "Quotes" menu. Calls and puts are displayed in the demo version of the software.
The full paid version has multi-leg strategies. In both cases, we noticed that derivative orders could be sent to specific market makers, a really great feature.
If you don't have a stock in mind, you can use DAS Trader Pro's screener. You'll find it under "Tools" in the upper menu. Some of the columns in the search results include the day's bid-ask spread and volume. There aren't many search criteria, though, which is one weakness.
Layouts can be saved on DAS Trader Pro. At each logout, you'll be asked if you want to save your current setup. Just select yes, and next time you login, you'll be presented with the layout you had at exit.
DAS ActiveWeb Trader
Day and swing traders who want a simpler platform than DAS Trader Pro could use DAS ActiveWeb Trader. This is the company's browser platform, and it offers many features short-term traders will want. These include:
Advanced order types
Direct-access routing
Time & sales data
Options trading
ActiveWeb Trader is user-friendly. Simple windows show positions, a watchlist, and order status. It's easy to add and subtract entries on the watchlist. The software also offers a live video feed of Bloomberg Television, something that the desktop platform doesn't have.
As with DAS Trader Pro, charting on DAS ActiveWeb Trader is rather simple. There are just two graph styles: line and candlestick. By comparison, Power E*Trade has ten different styles.
Moving averages are integrated. And we did like the ability to mouse over price action and read OHLC data and volume. A chart can easily be printed or saved as an image via an icon in the upper right.
We found ActiveWeb Trader's order ticket easy to use. If a stock or ETF is shortable, this will be noted on the ticket. There are multiple duration choices. If you're trading options, a simple click on a contract will populate that contract into the trade ticket.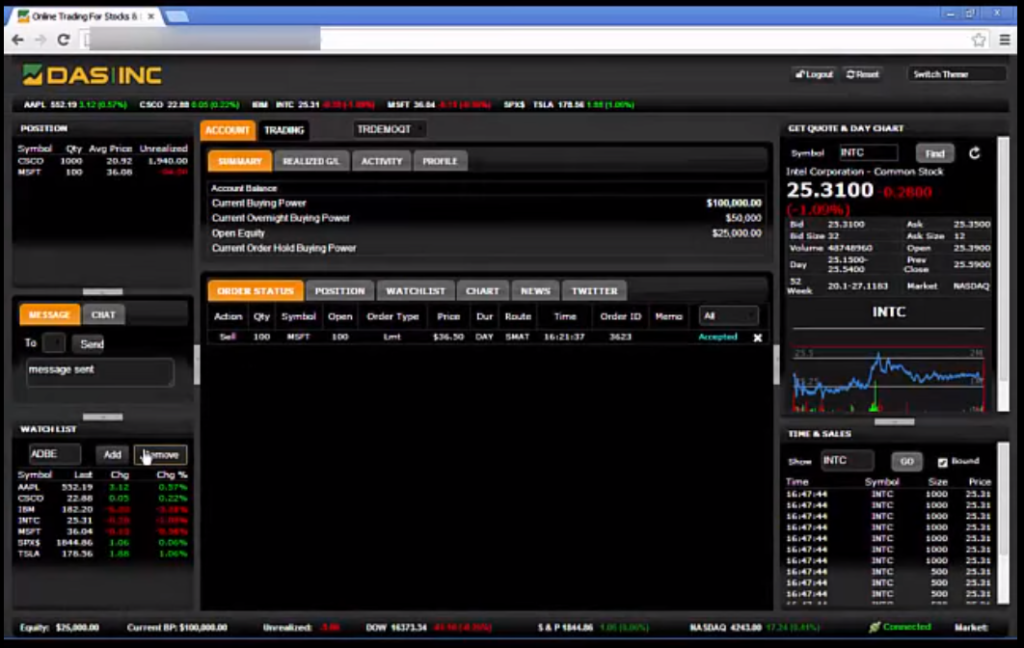 Bottom Line
DAS Trader Pro is a good platform that will meet the requirements of many day and swing traders. But because it can't be used directly through DAS, you have to go through a retail broker, and subscriptions are rather expensive.
It's a solid platform but we do think there are better ones out there like Sterling.
Let us know your thoughts in the comments below!