Value For Investors

Value For Day Traders

Cost

Platform & Tools

Customer Service
Summary
TC2000 has proven to be a solid product for day traders and is worth checking out if you are in the market for a new broker/trading platform.
Pros
Coupons are available for various activities
Web-based trading for Mac and Chromebook
Discounts for students
Many useful tools on the desktop platform
Very low margin rates
Online short locate tool
Direct Market Access
Cons
Pricey commission schedule
Additional fees for software and data
Limited history in the brokerage industry
Foreign residents cannot open an account
Small list of tradable securities
No direct-access routing
Level II data is unavailable
If you need a broker that offers free simulated trading, TC2000 is worth taking a look at. In addition to paper trading on a desktop platform, the firm offers:
Educational materials
Several analysis tools
In-person training events at several locations (except during coronavirus pandemics)
Brief Overview
TC2000 was founded in 2010 and is currently headquartered in Wilmington, North Carolina. On top of its brokerage services, the firm is also licensed as an investment advisor. The company has no disclosures on its BrokerCheck profile, which is a very good sign.
But does TC2000 deliver where it really counts? Let's find out.
Services Offered
Several account types are available at TC2000. They include:
Individual accounts
Joint accounts
UGMA/UTMA accounts
Trusts
Business accounts
IRA's 
The broker-dealer requires a $2,500 deposit to open an account. With an opened and funded account, it's possible to trade: 
Stocks
Options
ETF's
Closed-end funds 
The equity category includes penny stocks and over-the-counter securities. Unfortunately, foreign exchanges are not supported.
Day Trading
If you plan to day trade at TC2000, you'll need to keep an account equity (composed of both cash and securities) of at least $25,000. Somewhat surprisingly, TC2000 doesn't offer Level II quotes or direct-access routing.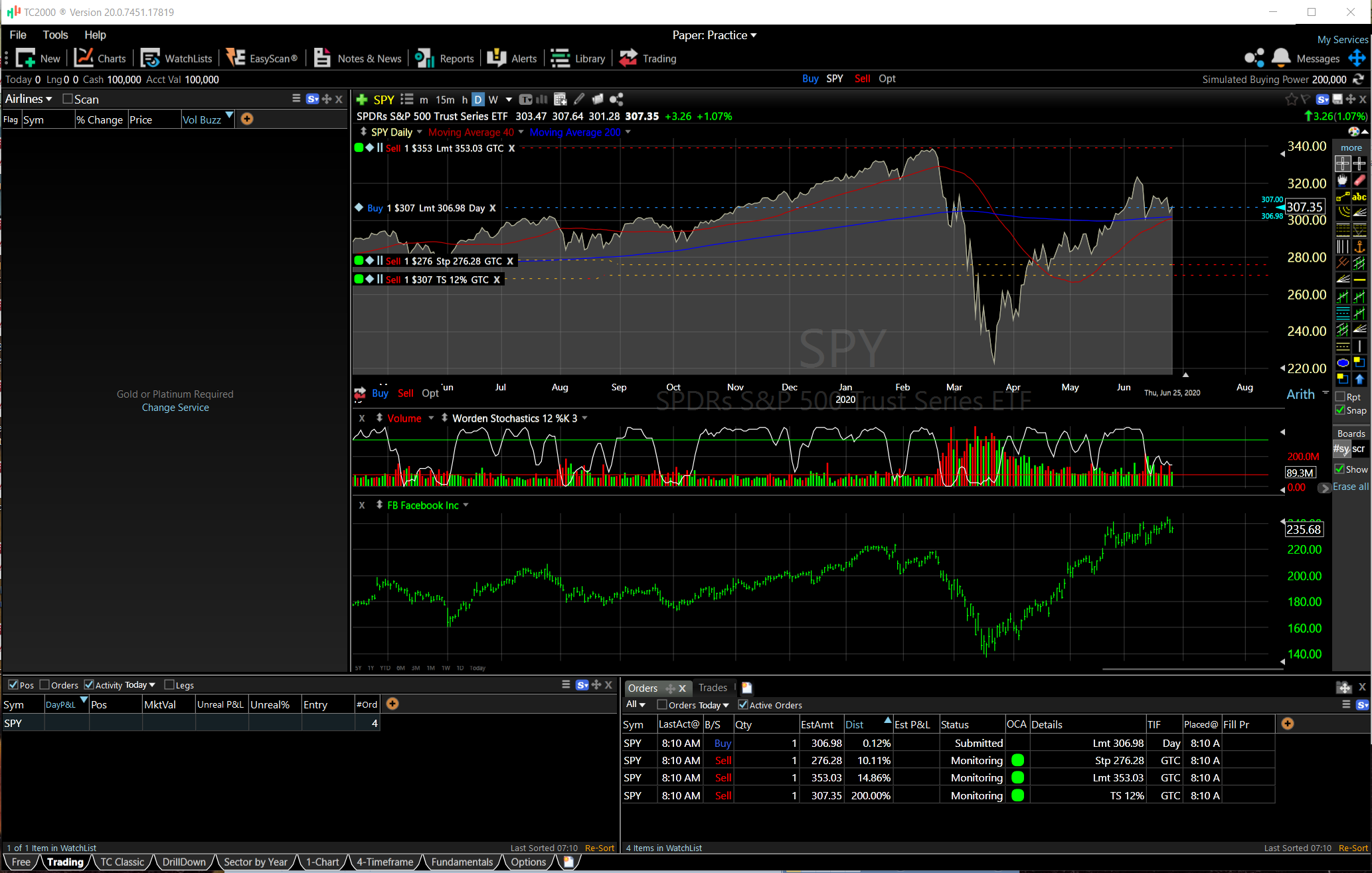 Leverage and Shorting
At TC2000, you'll get 4:1 intraday margin on most securities. Leveraged ETF's will have lower leverage, and some securities aren't marginable at all. For overnight positions, the leverage drops to 2:1.
TC2000 uses Interactive Brokers as its clearing firm. Thus, you can use IB's short locate tool to find stocks available for shorting. As expected, TC2000 will charge fees for this service. The rates vary by security and even by day.
Pricing Schedule
TC2000 is one of the few brokers left to still charge commissions, and they're not cheap. Stocks and fund trades are $4.95. Options are $2.95 per trade with a 65¢ per-contract fee.
In exchange for this rather uncompetitive commission schedule, TC2000 offers excellent margin rates:
TC2000 charges a monthly fee for data and its desktop platform. The latter costs $9.99 per month for the most basic version. A Gold edition costs $29.99 per month and comes with the following features:
EasyScan® screener for options and stocks
Simple step-by-step wizard to create conditions
Drawing tools
Sortable watchlists
Layouts across multiple monitors
Alerts (up to 100)
Graphs of sectors, earnings, % insider shares, and more
Extended-hours mode
Formula writing
A Platinum edition is a very steep $89.98 per month. It offers:
Historical condition testing
Historical scan results
Automatic refresh intervals on scans & sorts
Up to 1,000 alerts
Market timing indicators built from scan plots
Every month that you place at least one trade, the broker will give you a $25 Platinum subscription coupon. Alternatively, you can maintain an account equity of $30,000 or more.
The brokerage firm offers reduced software rates if you pay annually or semi-annually.
Real-time data on U.S. stocks costs $14.99 per month. Options data is $9.99. Other data packages have other fees ranging from $1 to $50.
Customer Support
During our investigation of TC2000, we found a helpful chat feature on its website. We always received quick and accurate answers. The site also hosts a list of FAQ's sorted by category. Many of these have screenshots of the broker's software in step-by-step guides. These should be of great help to many traders.
TC2000's customer service department is open during the weekday only. The firm has a toll-free number for technical support (1-800-776-4940) and another for brokerage services (1-800-508-9150). If you prefer e-mail, you can use [email protected] for technical help or [email protected] for assistance with your account.
If you need a quicker answer to a software question, you may find one on the broker's YouTube channel. There are about 80 videos and over 6,000 subscribers.
Software
Windows users can trade on TC2000® Version 20. This is the company's most robust software, although we will look at some other platforms shortly.
Desktop Software
Version 20 is the latest and greatest of TC2000, the broker's flagship desktop trading system. By default, the software literally has hundreds of pre-installed watchlists. Many of them require a subscription to a Gold or Platinum package, however. Watchlist examples include:
Forex
Canadian ETF (these can't be traded)
Industry by sector
Nasdaq bank index
Airlines
Oppenheimer International Revenue ETF
And of course, it's possible to create your own custom watchlist.
The platform's EasyScan® tool is located in the top menu. It has a lot of pre-installed screens. They include:
Increasing volume
Price above moving average 20
Dividend growth
Bounce after pullback
It's also possible to write your own formula for a custom-made scan.
By default, the software uses limit orders at plus or minus a penny. These defaults can of course be changed. Besides limit orders, there are:
Trailing stop
Trailing stop limit
Primary peg
Stop limit bid
And more
The software's order ticket automatically populates both buy and sell orders for a single trade. This of course makes bracket trading a breeze.
Charting on the desktop system offers multiple graph styles, drawing tools, and a great deal of customization. Trade buttons sit in the bottom-left corner of a graph. Click on either buy or sell, and a pop-up window will appear.
This will have choices for stock or options trades. Making either selection produces a small pop-up trade ticket with everything you need. The chart will also display profit and loss points.
TC2000's charting software displays buy and sell limit and stop points, which we really like. A small 'x' is shown at each price point. Clicking on one will cancel an order straight from the graph.
At the bottom of the platform is a row of tabs. Each one represents a default layout that offers a specific trading purpose, such as options or sector analysis.
Browser Platform
Customers who can't use the desktop program for any reason can use a browser platform instead. It comes with the same layout and interface as its desktop cousin. A workspace window sits inside the browser and can be dragged around and resized. Compatible browsers include:
Chrome
Edge
Firefox
Safari
Internet Explorer
Opera
Mac and Chromebook
TC2000 has developed its trading platform so that it can be used on Macs and Chromebooks. To use the platform on a Mac, you must first install Parallels Client. On Chromebook, you need to enter apps.tc2000.com as the server address inside the application server.
Mobile
The broker also has a mobile app. It functions on Apple and Android devices (including tablets). Strangely, it has no trading capability. The platform offers these features:
Multiple watchlists
Horizontal charting with more than 70 technical studies
Interactive Brokers' Software
Because TC2000 uses Interactive Brokers as its clearing firm, TC2000 customers can opt to use IB's software. This lineup includes a much better mobile app, a browser platform, and a desktop system.
IB's browser platform has direct-access routing, which is missing at TC2000 on any platform. But it has far fewer features than TC2000's browser-based system. IB's desktop program has many advanced features and definitely rivals Version 20. 
Bottom Line
TC2000 customers get a lot of software options, but they have to pay steep commissions and data fees. The broker's pricing schedule is no longer competitive in an era where most brokers have eliminated commissions altogether.
But traders who use margin may find a good value here.