Ultimate Beginner Resource Bundle

Day Trading $1,000 to $8,653.16 in 1 Month
Hey everyone! Guess what?! I've decided to fund a $1000 trading account with Suretrader. My goal was to prove to myself that I have what to takes to at least triple the account in 1 month. I put the $1k deposit on my credit card, and the next day my account was ready to trade.  The next day I lost 25% of my account!  I dropped down to just $750 before surging up 1000% over the next 4 weeks.  I finished the month with a balance of $8,653.16.  Through this challenge I proved that even with a small trading account, it's possible to make a living as a trader.  Even if I didn't continue the same level of percentage gains but continued to make $7500/mo, I'd make over $90k/year with that $1k starting balance.  That is the potential of $1k.  I can't imagine a better way to invest $1k than for a skilled trader to start actively trading it.
5 Techniques for Day Trading with $1000
1) How to pick the right stocks: (out of the thousands of stocks you could trade, there are only 5-10 that are worth trading each day). We cover this extensively in our Day Trading Courses, but we also offer daily watch list building from 9am-9:30 each morning.
2) How to Manage Risk: Do you know what profit loss ratio and what % of success you need to be profitable?
3) How to Identify charts with home run potential: Finding the gaps & the triggers. This all comes back to the Daily Chart, the News Catalyst, and the Float of the stock.
4) Trading Bull Flags: How to find intraday chart patterns like Bull Flags & Flat Top Breakouts in REALTIME.
5) How to use Level 2: Using Level 2 you can gain an advantage over other traders. We spend hours covering this in the day trading course. Just by watching the Level 2 and reading the tape you can begin to anticipate which direction a stock will go.
Account Reports & Trade List
Simple Day Trading Strategies
Almost all traders will agree that Momentum is one of the best trading strategies.  Momentum is what day trading is all about.  One of the most important things I realized as a beginner trader is that the only way to generate consistent profits is by finding stocks that are moving.  If stocks aren't moving, we can't make money.  As day traders we buy stocks with the intention of selling them at a higher price.  The good news is that almost every single day there is a stock that will move 20-30%.  This is a fact.  The question is how do we find those stocks before they make the big move.  The biggest realization I made that has led to my success is that the stocks that make the 20-30% moves all share a few technical indicators in common.  By understanding the anatomy of a stock with home run potential you increase the likelihood you'll be able to find them in real-time.
Anatomy of a Momentum Stock

Momentum Stocks all have a few things in common.  If we scan 5000 stocks asking for only the following criteria to be true, we'll often have a list of less than 10 stocks each day.  These are the stocks that have the potential to move 20-30%.  These are the stocks I trade to make a living as a trader.
Criteria #1: Float of under 100mil shares (see Float definition)
Criteria #2: Strong Daily Charts (above the Moving Averages and with no nearby resistance).
Criteria #3: High Relative Volume of at least 2x above average. (This compares the current volume for today to the average volume for this time of day.  These all refer to the standard volume numbers, which are reset every night at midnight.)
Criteria #4 is Optional: A fundamental catalyst such as a PR, Earnings, FDA Announcement, Activist Investors, etc.  Stocks can also experience momentum without a fundamental catalyst.  When this happens, it's called a technical breakout.
Warrior Trading Case Study
My Favorite Day Trading Chart Patterns
Bull Flags are my absolute favorite charting pattern, in fact I like them so much I made an entire page dedicated to the Bull Flag Pattern.  This pattern is something we see almost every single day in the market, and it offers low risk entries in strong stocks. The hard part for many beginner traders is finding these patterns in real-time. These stocks are easy to find using the stock scanners I have developed with Trade-Ideas. My Surging Up scanners immediately shows me where the highest relative volume in the market is.  I simply review scanners alerts to identify the strong stocks at any given time of the day.  As a pattern based trader, I look for patterns that support continued momentum. Scanners alone cannot find patterns on charts. This is where the trader must use their skill to justify each trade.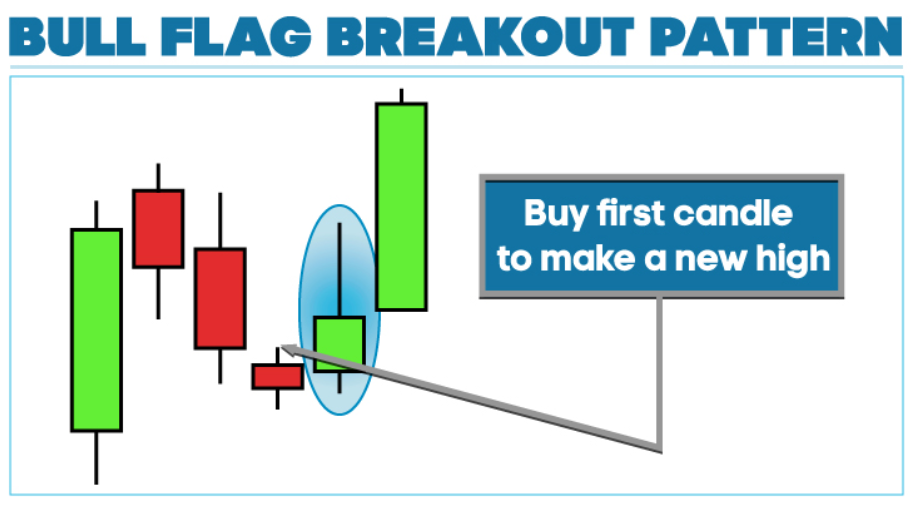 Day Trading Strategies Pattern #1: Bull Flags
With the Bull Flag Pattern, my entry is the first candle to make a new high after the breakout.  So we can scan for the stocks squeezing up, forming the tall green candles of the Bull Flag, then wait for 2-3 red candles to form a pullback.  The first green candle to make a new high after the pullback is my entry, with my stop at the low of the pullback.  Typically we'll see volume spike at the moment the first candle makes a new high.  That is the tens of thousands of retail traders taking positions and sending their buying orders.
One of the Best Trading Strategies
The Trading Strategies can be used from 9:30-4pm but I find the mornings are almost always the best time to trade.  I focus my trading from 9:30am – 11:30am.  However, at any time during the day we can get a news spike that will suddenly bring a tremendous amount of volume into a stock.  This stock which was of no interest earlier in the day is now a good candidate to trade on the first pull back.  The first pull back will typically take the form of a bull flag.  After 11:30am I prefer to only trade off the 5min chart.  The 1min chart becomes too choppy in the mid-day and afternoon trading hours.
Entry Checklist Summary



Entry Criteria #1: Momentum Day Trading Chart Pattern (Bull Flag or Flat Top Breakout)
Entry Criteria #2: You have a tight stop that supports a 2:1 profit loss ratio
Entry Criteria #3: You have high relative volume (2x or higher) and ideally associated with a catalyst.  Heavier volume means more people are watching.
Entry Criteria #4: Low Float is preferred.  I look for under 100mil shares, but under 20million shares is ideal.  You can find the outstanding float with Trade-Ideas or eSignal.
Exit Indicators
Exit Indicator #1: I will sell 1/2 when I hit my first profit target.  If I'm risking $100 to make $200, once I'm up $200 I'll sell 1/2.  I then adjust my stop to my entry price on the balance of my position
Exit Indicator #2: If I haven't already sold 1/2, the first candle to close red is an exit indicator.  If I've already sold 1/2, I'll hold through red candles as long as my breakeven stop doesn't hit.
Exit Indicator #3: Extension bar forces me to begin locking in my profits before the inevitable reversal begins.  An extension bar is a candle that spikes up and instantly put my up $200,400 or more.  When I'm lucky enough to have a stock spike up while I'm holding, I sell into the spike.
Analyze Your Results
All successful traders will have positive trading metrics.  Trading is a career of statistics.  You either have statistics that generate returns or losses.  When I work with students I review their profit loss ratios (average winners vs average losers), and their percentage of success.  This will tell me if they have the potential to be profitable, without even looking at their total P/L.  Once you finish each week you have to analyze your results to understand your current trading metrics.  The best traders keep meticulous trading records because they know they'll be able to data mine these records in order to understand what they should to to improve their trading.
Trade Side by Side With Me In Our Free Day Trading Chat Room
5 Step Process For Building A Daily Watch List
Every day trader needs to be able to build a daily watch list.  This is a critical step in becoming an independent trader.  Out of the thousands of stocks you could trade on any given day, how will you choose stocks to trade?  The first step, before you even build a watch list, is learning a strategy.  It's impossible to build a watch list if you don't know what type of stocks to look for.  And you can't know what you are looking for until you've adopted a trading strategy.  If you have started trading the Momentum Day Trading Strategy that I trade (I have about 68% accuracy on this strategy with over $200k profits in the last 12mo) then you are ready to looking for stocks each morning.  I'm going to walk you through the process of finding stocks with home run potential each morning.  If you follow these three steps each day you will be able to build a stronger watch list each day.
Step 1: Scan the Market for stocks gapping up more than 5%.  Even if there are 20 gappers, focus on the top 10 bigger percentage gainers, and prioritize low float stocks (float under 20mil shares) higher on the list.
Step 2: Review the Daily Chart & Pre-Market Charts.  The best momentum setups will be opening above the 9ema and 20ema on the daily chart.  Additionally, there will be lots of room before any nearby resistance.  The pre-market chart should have
Step 3: If the Daily Chart checks out, it's time to research the catalyst.  I check MarketWatch, Benzinga, and StockTwits for the headlines.  Essentially I want to see that stocks have some type of press release today.  If there isn't any news, it's hard to justify why the stock has managed to gap up 5% or more.
Step 4: Now that you've found the gapper, mapped out the chart, and identified the news, this stock is ready to be on the watch list!  When I put a stock on my watch list I start by making note of the critical factors such as Float, Catalyst, and my desired entry point.  Based on the Momentum Strategy, I will be buying the first pullback in the form of a bull flag, flat top breakout, or moving average pullback.
Step 5: As soon as the bell rings it's time to trade!  I take trades only when I can maintain a 2:1 profit loss ratio.  That means 10 cent stop vs 20 cent profit target.  With 10k shares that $1,000 risk vs $2,000 profit potential.
6 Steps to Getting Started with Warrior Trading
Step 1. Join the Quarterly Day Trading Chat Room Membership



So you want to learn how to day trade?  The first step to getting started trading is to join our chat room and get a feel for our community.  We encourage all of our members and future trading course students to start by simply sitting in our live day trading chat room.  We understand that everyone has their own personality and trading preference, and that we may not be the best for fit everyone.
Before jumping into our full length trading courses we want you to make sure we are a good fit for you!  At the same time, we learn if you are a good fit to work with us in our one-on-one mentor program.  Our best students work closely with us as we work to build your trading skills and turn you into a highly profitable trader. Learning how to day trade is something that we want to make fun and enjoyable!  That means we need to work together well.  During the first week in our chat room if you think we are a good match then we'd encourage you to get started with Step 2!
Step 2. Paper Trading – Open your Paper Trading Demo Account



We have partnered with Fantasy Stock Traders to provide our students with a real-time Trading Simulator for paper trading.  This simulator offers Level 2, Time & Sales, Charts, and most importantly, allows us to monitor your trades.  This means when we see you making mistakes we can point them out immediately and set you back on track!  We provide Trading Mentors to work with students in our Warrior Pro Trading Courses.  Our goal is to allow you to day trade in a safe environment so you can practice the strategies you're learning without risking real money.
You should never day trade with real money until you've proven you can trade profitably in a simulated Paper Trading account!  Getting started trading required paper trading for at least 1 month.  This is something we discuss extensively in our Trading Courses.  If I had traded in a simulator while I was learning it would have saved me tens of thousands of dollars, not to mention the emotional turmoil of losing money month after month.
I can't tell you how many traders have emailed me saying they've lost money in the market because they were trading unproven strategies.  This is the exact reason why 90% of traders will fail.  So let me propose an alternative, before trading with real money, prove you have what it takes to be profitable by trading in the simulator for at least 1 month.  Until you can trade with a min of a 50% success rate and 2:1 profit loss ratio, you should save your hard earned money instead of trading with it.
Whether you are a member of our Day Trading Chat Room or a student in our Trading Courses, we don't want to you trading with real money until you've tested out your strategies and proven they are sustainable.  This will prepare you to trade live at Speedtrader or Suretrader (see our article on The Top 3 Best Online Trading Brokers)
Step 3. Join our Full Length Online Day Trading Courses.  This is where your Intensive Education Begins!
Warrior Trading is a community based on education.  Getting started trading means investing in your education!  When you join our full length trading courses, either the Swing Trading Course, the Day Trading Course, or the Warrior Pro Trading Course, you will get our full attention as teachers.  We take all of the students in our community under our wing.  It's our goal to see you succeed.  To that end, we train you in the most important elements required to success.  We start with intensive review of risk management.  Having reviewed the trading accounts of failed traders we realized the most important skill for long term success is risk management.
Most failed traders experience small wins and big losses, and a poor percentage of success.  Knowing that most day traders lose money, we bluntly address the causes of failure so you can understand what you need to do to be among the few who succeed.  We then teach you how to choose the right stocks to trade each day, and we share our stock scanners with you.  Once you understand how to manage risk and choose the right stocks, it's time to find your entries!  I focus on the simplest patterns because keeping it simple has always worked really well for me.
Step 4. Funding a Live Trading Account – How Much Money Do I Need?



Once you have graduated from our Trading Courses and you have proven that you can be a profitable trader in a simulated trading environment you will be ready to trade with real money.  It's important to note that not everyone has the aptitude or the risk tolerance to be a full-time day trader.  By this point in your journey to become a day trader you should be able to form a honest opinion whether or not it's a good fit.  For students who have thrived in the trading courses and who have generated profits in their Demo account will typically look to fund a live trading account within the first 1-2 months of beginning their training.
When you fund a live account you have two options.  Trading the US Equities Market requires a min of $25k because you will be considered a Pattern Day Trader (PDT).  The PDT Rule is maintained by all US Stock Brokers including our favorites, Speedtrader and Lightspeed Financial.  If you find yourself below the $25k min threshold you aren't alone!  Suretrader is a broker based in Nassau, Bahamas, that most traders use when they are below PDT use.  I have personally used Suretrader and hundreds of our students have as well.  Suretrader has an account min of $500, allows 6x leverage, and unlimited day trading as long as you maintain your $500 balance.  If you fund a Suretrader account with $3k you will have $18k in buying power ($3k x 6 leverage = $18K).  Most of our students who graduate from the Trading Courses will trade with 1-2k shares.  This means with a $3k Suretrader account you will be able to trade full size on stocks under $9.
Step 5. Make a Living Day Trading – The $200/day Challenge



Become another successful Warrior Trading student who is making a living as a Day Trader and consistently hitting their $200/day Challenge.  Remember that $200/day is $52k a year.  We aim to achieve this goal trading from 9:30-11:30am.  We have structured the trading room for live trades from 9:30-12pm and then education in the afternoons.  Afternoon trading can add icing to the cake but is not necessary for most beginner traders.  If we trade in the afternoons we manage risk by using smaller positions.  I typically spend the afternoons reviewing the trades our students are taking in the simulator and providing education by explaining what students are doing right or wrong.
Step 6. Invest in the Best Tools



Once you have proven you have the skills to be a profitable day trader you will feel confident investing in some of the best tools.  We encourage new students to keep the monthly overhead as minimal as possible.  This means utilizing free tools.  Eventually you will want to use the same tools I'm using, including Trade-Ideas, Benzinga, and eSignal.  These can easily add $300/mo in overhead.  There is no reason to take on this added expensive until you are generating real profits from a live trading account.  In my first year I lost $30k in trading losses, plus an extra $5k in expensive software fees.  I didn't spend a penny on education.  I learned the hard way!  Hopefully you will make better decisions as a new trader than I did.   Remember that the market will always be here.  It's best to wait until you have proven you can be consistent before increasing your overhead.  Many beginner traders find that they simply tread water for several months before they start to gain traction.

One of the most important tools for a beginner day trader is Trade-Ideas.  This is the software I use for all my stock scanning, and it's where I find the majority of my trades each day.  I have created a custom set of scanner settings to look for momentum stocks that I feel have an 80-90% chance of giving me a profitable trade.  At this point in your journey of learning how to day trade, you should be profitably trading the markets with the team at Warrior Trading.