Value For Investors

Value For Day Traders

Customer Service

Cost

Innovation
Placing trades is not enough. You need to be able to track them, monitor them, and analyze them.
That's where Trademetria comes in. It's an online journal that lets users keep track of their trades and more.
Highlights include:
Day trader reports
Image uploads
Analytics dashboard
Commission tracker
Strategy rankings
Trade export tool
Instrument ranking
Ability to share trades
Back office tools
And more
Brief Overview
Trademetria was founded by Thiago Ghilardi, a computer scientist who felt that simply placing trades wasn't enough. He came to the conclusion that traders needed to learn from their work.
They needed to understand what they were doing right and wrong. Out of this conviction, Trademetria was born.
Services Offered
Trademetria focuses on trade journaling and analysis. There are several services available, including: 
Trade history calendar
Portfolio tracking
Trade reports
Entry/exit locations on a chart
Intraday trading reports
Trade rankings
Trading metrics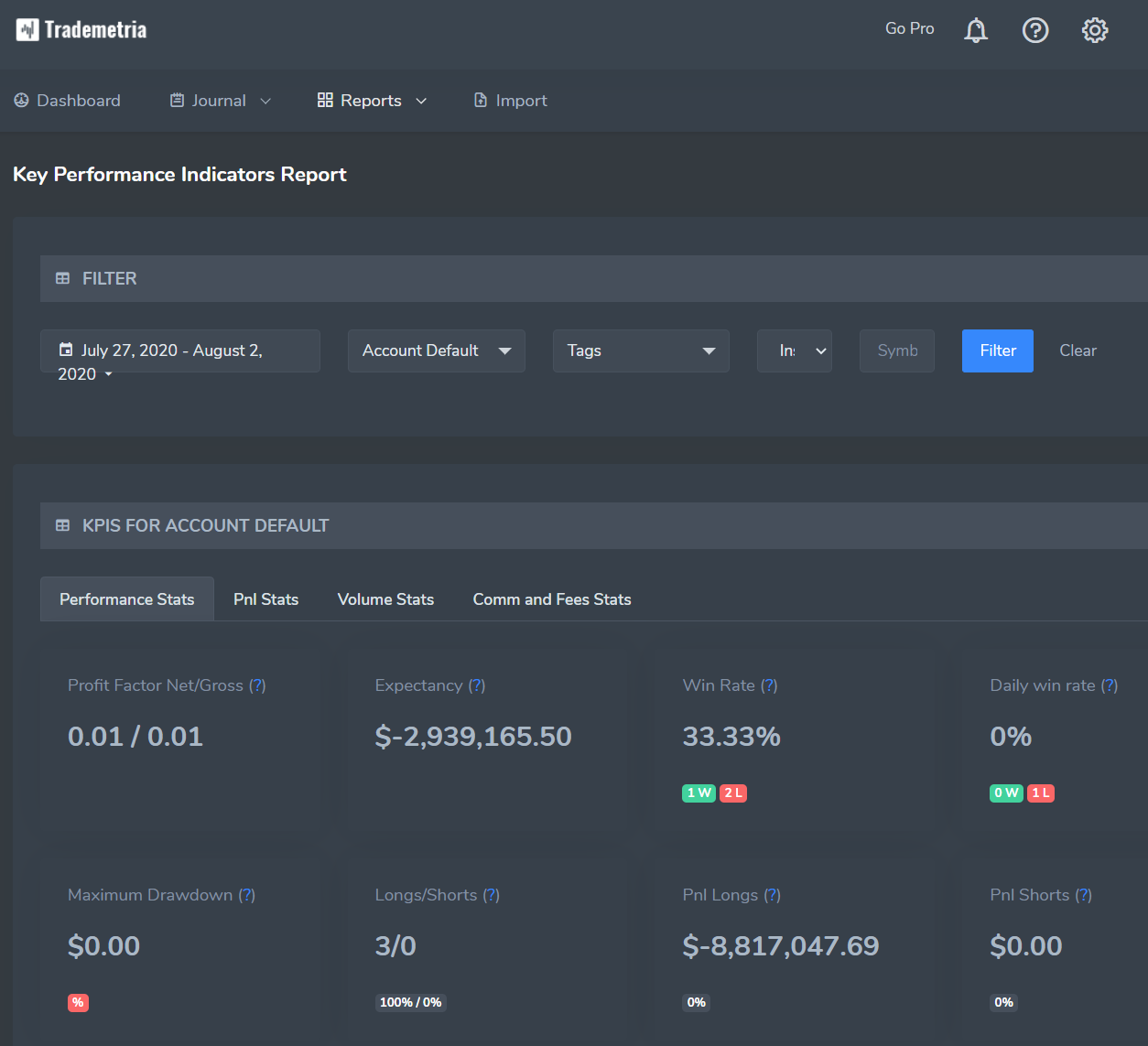 Trading
Trademetria doesn't offer any type of trading capability, they are strictly for journaling and analyzing trades.
Nevertheless, it is possible to import trades from brokerage firms. Trademetria is compatible with more than 100 firms and platforms.
Examples include:
Coinbase
CQG Desktop
Das Trader
Fidelity
Interactive Brokers
Lightspeed
Ninja Trader
thinkorswim
TradeZero
Pricing Schedule
Trademetria customers can choose from three pricing schedules: Free, Basic, and Pro.
As the name suggests, the first plan costs $0. Although it has the most limited features, the subscription still manages to deliver a lot. Highlights include:
Ability to track one account
Real-time quotes (only 3, and only on forex and stocks)
Order imports (up to 30 per month)
Daily journal
Journal for individual trades
Historical performance
Key metrics
Day trader log
Commission tracking
WYSIWYG journal editor
Image uploads
Analytics dashboard
Trade tagging
Tracking of withdrawals and deposits
Ability to share trades
Portfolio tracking 
For $14.95 per month, you can upgrade to the Basic plan. In return, you'll get up to 100 order imports per month instead of just 30. The Basic subscription also comes with unlimited real-time data on currencies and equities. This is perhaps its best feature.
The Basic plan also offers: 
Ability to export trades
Strategy Rankings
Instrument rankings
Distribution by time
Distribution by market condition
None of these features are available with a Free subscription.
The final and most comprehensive subscription is the Pro package. This one costs $24.95 per month but comes with unlimited order imports. Although the Free and Basic plans can only track one account, the Pro plan can track up to 50.
All three plans support options, stocks, futures, forex, contracts for difference, and cryptocurrencies. Options on futures are not supported on any plan at this time.
Discounts are available for paying on a yearly basis. Currently, Trademetria is offering 30% off to customers who pay for 12 months of service up front.
Software
Trademetria consists of a website. Without any trading capability, there's not much need for a browser platform. And of course, there's no desktop program. There's also no mobile app.
Trademetria does offer API support for retrieving some trading statistics.
Import Tool
Once you have your account up and running, you'll want to add your recent trades. Using the Import tab in the top menu, this can be accomplished in a couple of different ways.
You can add each individual trade manually. This option will take the longest amount of time, especially if you have lots of trades.
Available fields include:
Trade side (buy or sell)
Quantity
Date
Trade time
Price
Commission
Notes and tags
If you do add trades manually, make sure you exit the trade as well. Otherwise, the profit or loss from the trade will not show up in your Trademetria account.
The other import option is to add a batch of trades from a broker. Trademetria's site has a drop-down menu for every broker-dealer it supports. When you select a firm, Trademetria will display import instructions for that particular broker or platform.
Some instructions can be somewhat complicated. In these cases, Trademetria may offer a video with step-by-step instructions. This is the case, for example, when importing from thinkorswim. 
Daily Journal
Under the Journal tab, you can select Daily Journal or Individual Trade Journal. The former is for general notes on events during a day's session. You can select a date and a title. The comments box offers many tools, including: 
Image and video upload
Colors for text and highlights
Tables
Hyperlinks
And more
Individual Trade Journal
It's also possible to create notes on individual trades. These can be saved with lots of details, such as exchange fees, images, tags, and so forth. 
Reports
Once you have your trades imported and logged, you can run some reports. The goal here will be to analyze your performance.
Under the Reports tab, you'll find several tools. Examples include:
Key Metrics: This feature will display all sorts of stats. Examples include daily win rate, maximum drawdown, and average hold time for winners.
Day Trader Report: This tool will display your intraday account growth and other details for a single trading day. These include: 
Average net per trade
Win rate
Profit factor
Total trades
Trade calendar: This is a nice way to see your day-to-day performance in a grid view. 
Customer Support
Trademetria has a YouTube channel with 17 videos. It also has a Help section on its website. Here, we found some FAQs with brief answers. During market hours, there is also a live chat widget. During off hours, chat is replaced with an email form.
Researching Markets and Assets
We hoped to find some robust research materials at Trademetria. But unfortunately, the company just doesn't offer any. This place is strictly for journaling.
Social Networking
Another downside of Trademetria is that there's no community forum where traders can connect with each other. There are no social networking tools of any kind.
Charting
Trademetria doesn't itself provide any charting software. However, it does link to charts by TradingView. To access these, just click on the Reports tab and then select My Portfolio. In the list of securities, there's a chart icon. Click on one of these, and a new browser tab will be created with a chart, courtesy of TradingView.
Highlights include:
Many graph styles, including Point & Figure
Technical indicators
Company events
Video and still image screenshots
Great deal of customization
Comparison
Trademetria's most notable rival in the realm of trade journaling is perhaps Tradervue. Monthly prices on the journaling site range from $0 to $49. So obviously, it's more expensive than Trademetria. But there are some notable features that Trademetria doesn't offer.
In particular, we really like the social-networking feature at Tradervue.
The following features are especially noteworthy:
You can comment on trades and discuss trades with other users.
It's possible to look over other members' trades and share your own.
You can export posts to other social media sites like Twitter and Facebook.
At TradingView, it's also possible to post trades and connect with other users. Moreover, TradingView has a mobile app that incorporates the company's social-networking service. As we have seen, Trademetria doesn't have a mobile platform.
Bottom Line
Trademetria has built a trade journal with many useful features. While the price is attractive, better services can be found elsewhere.
Reviews by Warrior Trading